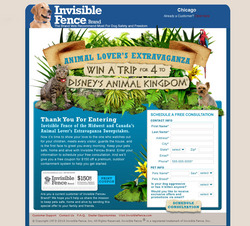 It's our experience that the more integrated a campaign becomes in terms of marketing, the better the results. The Invisible Fence® of the Midwest and Canada's Facebook sweepstakes is a perfect example of this
Traverse City, MI (PRWEB) September 28, 2010
It began raining cats and dogs on September 3, 2010. The forecast shows no signs of it stopping as animal lovers continue to flock to the new Facebook promotion built by Oneupweb for Invisible Fence® of the Midwest and Canada. Dubbed an Animal Lover's Extravaganza, the main prize is a trip for four to Disney's Animal Kingdom®-and a free installation of an Invisible Fence® Brand system, of course.
"Invisible Fence® of the Midwest and Canada were looking for a way to really connect with families. We helped them design a sweepstakes targeted to their unique customer demographics. And we didn't stop there," explains Oneupweb CEO and Founder Lisa Wehr. "The success of this social media campaign is due to the integrated online marketing tactics we used to promote the sweepstakes."
So what is that success Wehr speaks of? It includes:

192% increase in Facebook Likes
More than 2900 entrants
Upwards of 24 million targeted impressions via Facebook
A Facebook PPC ad, receiving more than 5 million impressions, with a 98.2% social impression-indicating the percentage of impressions where the viewer of an ad also saw that 1 or more of their friends liked the page, application, event, or ad
Average daily comments on the Invisible Fence® of the Midwest Facebook page increased by 700%
And that was just in the first two weeks.
The social media campaign is backed with Google and Facebook PPC ads, banner ads, viral content seeding and more.
"It's our experience that the more integrated a campaign becomes in terms of marketing, the better the results. The Invisible Fence® of the Midwest and Canada's Facebook sweepstakes is a perfect example of this," says Wehr.
The sweepstakes is slated to run through October 17. Along with the grand prize, two runner-up prizes of packages specifically designed for dog lovers will be awarded. Plus, anyone who enters the sweepstakes automatically receives a coupon for $150 off an Invisible Fence® Brand Premium Outdoor Containment System.
"As social media continues to expand and change, we really look to Oneupweb to come up with creative strategies to make sure we're in the space, speaking to families and dog owners everyday about what we do best--keeping pets safe and well-behaved at home," says Laura Wright, Chief Marketing Officer, JGB Distributing, Inc.
To enter the Invisible Fence® Brand Animal Lover's Extravaganza sweepstakes, please visit Facebook.com/InvisibleFenceMidwest.
To find out more about Oneupweb's social media and other digital marketing services, please visit OneUpWeb.com.
About Oneupweb
Oneupweb has been an innovator in digital marketing for more than a decade, creating integrated online marketing plans that incorporate natural search engine optimization (SEO), paid search marketing (PPC), social media marketing, digital pr, display advertising, analytics, creative services, mobile marketing, website design, web 2.0 technology, audio/video/podcasting, and research, training and consultation. Heralded by an independent research firm for their leadership team, Midwestern work ethic and solid experience in optimizing complicated sites, Oneupweb has been named a Top 25 Search Marketing Agency by Advertising Age for four consecutive years, and CEO Lisa Wehr is recognized as an Ernst & Young Entrepreneur of the Year. The company publishes an award-winning blog entitled StraightUpSearch, and an award-winning monthly newsletter entitled The Merge. Oneupweb is a privately held company located in Traverse City, Michigan. For more information on Oneupweb, please call 231.922.9977, visit OneUpWeb.com or follow them on Twitter @Oneupweb and @LisaWehr.
###