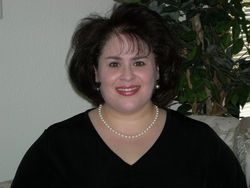 "I've lost so many family members to cancer and it's just time to find a cure."
Canutillo, TX (PRWEB) September 29, 2010
Ivette Muller, Thirty-One independent consultant, wanted to do something special to raise money and awareness about breast cancer this year. Now that she owns her own business, she decided to do a fundraiser to make a donation to the Susan B. Komen foundation.
"My whole life has been impacted by cancer, " Muller says, "and I've always wanted to help in some way. I've lost so many family members to cancer that it's just time we find a cure."
Muller stated that she still remembers losing her godmother to breast cancer more than 28 years ago. "My godmother died two days after my eleventh birthday. I still remember she was so weak but she had to come and see me on my birthday. My Auntie Gloria had a tradition of writing out a check to me every year for my birthday and that year she took the time to write my $11.00 check for my 11th birthday. Sometimes I wish I had not cashed that check, or at least I should have made a copy of it."
The anniversary of her godmother's death on 9/15/10 prompted Muller to find a new way to donate to the cause. While she has participated in local events and fundraisers, she wanted to do something that could potentially have a larger impact. Recognizing the fact that many people have decreased their donations due to concerns with the economy, Muller thought she would try to raise funds through her business.
As a Thirty-One Independent Consultant, Muller runs her own business. So she decided to host a special fundraiser based on her profit from sales generated October 1 through October 13, 2010. "If anyone makes a purchase from my personal Thirty-One website, then I will donate 10% of my profits. I thought some people might like to get a product and still know that they donated to a worthy cause."
To participate in the fundraiser, you can access Muller's personal website, by going to http://www.mythirtyone.com/ivette/. This fundraiser is only associated with Ivette Muller, Thirty-One Independent Consultant.
###