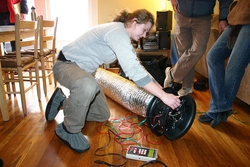 Part of the goal is to elevate current retrofit markets in the participating states so that the momentum created will permanently and sustainably transform the market for home energy improvements.
Portland, OR (PRWEB) September 28, 2010
Earth Advantage Institute, a nonprofit green building research and resource organization that has certified more than 11,000 green homes, announced it has won part of an $11 million U.S. Department of Energy project designed to help benchmark home energy performance in four states. The project will be directed by the National Association of State Energy Officials (NASEO). William Nesmith, senior regional coordinator, NASEO, has been designated to manage the multi-state team, which includes Massachusetts, Virginia, Alabama and Washington.
The project is part of Earth Advantage Institute's strategy to develop market mechanisms that can spur adoption of energy-efficient building techniques, and to create a databank on residential retrofit effectiveness. Under the terms of the award, Earth Advantage Institute will deploy Energy Performance Score (EPS) technology in specific regions across the four states, enabling a "miles-per-gallon" energy consumption rating for each audited home in these areas.
Additionally, the organization will provide an expandable infrastructure for each state that includes professional auditor training, real estate agent education, and a web portal allowing audited homeowners to seek bids from qualified energy contractors and preferential financing from lenders.
The need for energy benchmarking
The award proposal stems from the need for a nationwide benchmarking effort that can serve as a first-time effort to measure residential energy efficiency and related carbon emissions while boosting the rate of retrofits.
"The intent is to use the synergies inherent in a broad, multi-state effort to establish a model that can be applied nationally to increase retrofits, create jobs, save energy, and reduce greenhouse gas emissions," said Sean Penrith, executive director, Earth Advantage Institute. "Part of the goal is to elevate current retrofit markets in the participating states so that the momentum created will permanently and sustainably transform the market for home energy improvements."
NASEO will oversee efforts in each state to ensure that the goal of creating a sustainable residential retrofit market is met. It will manage timelines, reporting and protocols for all of the participants, and will serve as an interface between the U.S. DOE and the team members. It will also manage any work changes and review all project deliverables for compliance with US DOE's contracts. As part of the proposed building retrofit program, NASEO will work with partner states to develop a national steering council collaborative.
"NASEO is excited about the opportunity to assist Earth Advantage in furthering the goals of the State Energy Offices in this important residential labeling program," said David Terry, executive director, National Association of State Energy Officials. "The leadership of these states will make a great contribution not only to their own citizens but other states that adapt and adopt similar programs."
The award represents a significant contribution to Earth Advantage Institute's revenue. It follows on the heels of a 5,000-home EPS pilot program in the City of Seattle that was awarded to the organization in 2009 and launched earlier this year.
The Energy Performance Score
Earth Advantage Institute conceptualized the EPS as a benchmarking tool in 2007, with support from the Energy Trust of Oregon. The first pilot of 300 homes in 2008 showed the tool to more accurate than other rating systems in that it measured expected energy consumption rather than energy efficiency. Homeowners, builders, and real estate agents provided favorable feedback, seeing it as a tool that would allow an easy comparison of two separate homes, while motivating homeowners to make retrofits in order to increase potential resale value.
Objective: Scale up energy savings
Program goals include retrofitting two percent of the homes in targeted markets in each participating state by 2013 – a total of 12,150 -- which would result in measurable, demonstrable energy savings that scale up and persist over time. The program will also serve to establish policy, regulatory, and technology best practices and leadership for states at any level of retrofit market penetration.
The consortium of four states and key national experts will implement a leading edge combination of energy modeling and benchmarking, contractor management, policy development and innovative financing that will serve as a catalyst for homeowner investment in energy efficiency. The effort will rely on implementing EPS technology to evaluate homes, and educate consumers and stakeholders on the energy and costs savings available through home retrofits. The EPS program will increase jobs as well as retrofits by training workers and contractors to engage with consumers, perform audits using EPS, install energy efficiency measures, and ensure quality.
In order to maximize energy savings and results, the program will target specific market areas in each state for retrofit efforts. The concentration of audits, retrofits, education and financing will result in the creation of a retrofit "ecosystem" that can be expanded to other locales after evaluation and any needed adaptation.
Moving towards sustainable finance
The multi-state effort will also document the beneficial effects of energy retrofits on home values and consumer cash flow, and will educate real estate agents and appraisers to use the EPS in selling and evaluating properties. By engaging the finance industry, the states seek to demonstrate how retrofit homeowners represent an important new market, and that enabling affordable financing of up-front installation costs can result in expanded business opportunities.
Other Participants
Other participants in the program include Advanced Energy, Raleigh, N.C.; Conservation Services Group, Portland, Ore.; Energy Programs Consortium, Washington, D.C.; Environment Northeast, Rockport, Maine; Green Jobs Alliance, Hampton, Va.; Local Energy Program Alliance, Charlottesville, Va.; Massachusetts Department of Energy Resources, Boston, Mass.; Seattle Northwest Securities, Seattle, Wash.; Southeast Energy Efficiency Alliance, Atlanta, Ga.; Washington State Department of Commerce, Olympia, Wash.; Washington State Housing Finance Commission, Seattle, Wash.; and Washington State University Energy Program, Olympia, Wash.
###