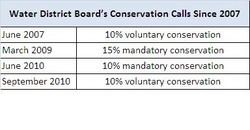 Living in a populated, semi-arid region means that we experience water shortages quite often. As a result, water conservation needs to become a way of life and not just something we think about only in times of drought.
San Jose, CA (Vocus) September 28, 2010
Today, the Santa Clara Valley Water District Board of Directors ended the 10 percent mandatory conservation and instead called for a 10 percent voluntary conservation, indicating that many water-supply challenges persist despite improved water supply conditions.
The board voted to replace its mandatory conservation goal with a voluntary conservation goal, largely because of the above average rainfall, healthy groundwater storage levels and the community's strong conservation effort.
"The water supply conditions in the county have sufficiently improved to the point that mandatory conservation is no longer required. However, we need to continue to conserve voluntarily because many challenges still remain," said Richard Santos, chairman of the water district board of directors.
The water supply outlook received a boost, thanks to the community's remarkable conservation efforts that delivered 20 percent water savings over the last 14 months, exceeding the 15 percent mandatory conservation goal. In March 2009, the board called for mandatory 15 percent water reduction, as the state entered a third year of drought. In June 2010, as the water supply situation improved, the board scaled back the goal to 10 percent mandatory.
The district's local reservoirs have now recovered from the drought and are above the 20-year average for this time of year, and there are sufficient water supplies to have a full groundwater recharge program in 2010.
"However, the reliability of water conveyed through the Sacramento-San Joaquin Delta, which delivers 50 percent of our water supplies, is still in jeopardy. Our imported water supplies continue to be curtailed due to multiple dry years, environmental restrictions limiting water exports from the Delta and growing pressure on the state's water storage and delivery system," said Director Santos.
Continued conservation is also important to achieve the California state mandated long-term goal of reducing per-capita urban water use by 20 percent by the year 2020. The new conservation regulation was put in place in November 2009, when Governor Arnold Schwarzenegger signed the historic water conservation bill, S.B. x 7-7, at the water district campus in San Jose.
"Moreover, living in a populated, semi-arid region means that we experience water shortages quite often. As a result, water conservation needs to become a way of life and not just something we think about only in times of drought. To help ensure a reliable supply of quality water today and in the future, it is important that we use water wisely every single day," said Director Santos.
"We encourage the 1.8 million residents in the county to continue their conservation effort and, for its part, the water district will continue with its award-winning 'For a Better World…Save20gallons' campaign, which helped the county exceed the conservation goal of 15 percent by achieving 20 percent water savings," Director Santos said.
Water conservation is critical to our future, and by taking simple steps, we can achieve our goal of saving 20 gallons every day. For example, in the fall because of the cooler weather and shorter days, plants and lawns need less water than in the summer and watering can be cut by 50 percent.
In addition, the water district runs some 20 water conservation programs, offering rebates and services to help residents and businesses permanently reduce their water usage and save money. For example, we offer homeowners and businesses rebates to convert their water-thirsty landscape to water-efficient landscape. Or residents can buy a high-efficiency clothes washer and may qualify for a rebate of up to $175.
Residents and businesses can find more information on the district's rebate programs by visiting the website save20gallons.org or calling the district's water conservation hotline 408.265.2607, ext. 2554.
The Santa Clara Valley Water District manages wholesale drinking water resources and provides stewardship for the county's watersheds, including 10 reservoirs, hundreds of miles of streams and groundwater basins. Valley Water also provides flood protection throughout Santa Clara County.
###