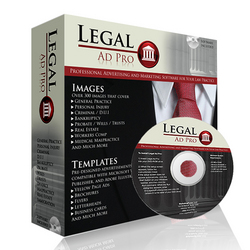 Finally, an easy way to create an extraordinary public image for your Law Firm!
Wichita, KS (PRWEB) October 22, 2010
Makeovers aren't just for hairdressers and makeup artists anymore! We all love to see makeovers because it's fascinating to see how the same person can look so much more attractive with a few specific changes to their image. The public image of a Law firm is no different. Simply by changing the look & feel of a law firm's image to be perceived as being more experienced, professional or trustworthy, can generate huge increases in revenue through new client growth.
Legal Ad Pro gives Lawyers the capability to enhance their public image by producing high-end Madison Avenue quality advertising and marketing materials in-house at very low-cost. Whether you're a large law firm or you're a solo practitioner, prospective clients often choose to hire you based upon the public image that's created through your marketing materials such as a yellow page ad, website, TV ad, brochure, etc. Therefore, to appeal to the greatest number of potential clients, your marketing materials need to always look their absolute best. You now have a resource to make sure they do! Legal Ad Pro is designed to make your public image more attractive by giving all of your Law Firm's marketing materials a consistent professional appearance.
Every legal marketing material imaginable can be professionally designed utilizing Legal Ad Pro. From high profile items such as a law firms' Yellow Page advertisements, firm brochures, magazine ads, newspaper ads, video presentations or direct mail pieces to everyday items such as, business cards, letterhead, envelopes, firm announcement cards, emails, blogs and more. Legal Ad Pro gives law firms new capabilities in-house that they previously had to pay thousands of dollars to third party vendors to obtain.
At the heart of the software is its exclusive content library. The software includes both a comprehensive royalty-free legal stock photography library and an in-depth template library created by professional photographers and cutting edge graphic designers. You'll have relevant image content, right at your fingertips, for all areas of law practice such as Criminal Law, Injury Law, Bankruptcy/Debt Law, Family Law, Divorce Law, Medical Law, General Practice and most others.
Creating a marketing piece that's both well designed and gets results is much easier said than done. Legal Ad Pro helps take the guess work out of the process by providing users with impressive results, right out of the box. The included legal stock photography library contains over 500 high resolution images (in jpeg format) specifically relevant to the practice of law. Your own images may also be easily imported and used together with the photos in the image library to personalize your results. The included template library contains over 400 easy-to-use templates with images and graphics already designed, laid-out and ready to be edited with your law firm's name and contact information. All of Legal Ad Pro's templates may be further edited to your desire and needs. The templates are provided in popular document file formats such as Microsoft Word, Microsoft Publisher and Adobe Illustrator for easy editing in your preferred application. Whether you're a do-it-yourselfer or a Pro, you'll be pleased with how easy it is to achieve spectacular results.
Alex Jinks, Co-Founder states "Many Lawyers and Law Firms have spent a small fortune purchasing yellow page ad space but few have the resources or expertise to make those very expensive ads look really spectacular and, most importantly, genuinely effective at attracting new clients. Except for the largest Law Firms, it's just too expensive to hire a photography crew, models, copywriter and a graphic designer to create advertisements and other high end marketing materials in-house. Until now! We designed Legal Ad Pro to give every Law Firm the ability to achieve Madison Avenue results at a very affordable cost. I'm very excited to say that no Lawyer should have to settle for an unprofessional public image of their law firm ever again."
Legal Ad Pro comes on a DVD and runs under Microsoft Windows XP/Vista/Windows 7. It includes an in-depth easy to follow tutorial to get you up and running in minutes. The software integrates seamlessly with many popular graphics programs such as Microsoft Word, Microsoft Publisher, Adobe Illustrator, and Adobe Photoshop among others. The product, which is a first of its kind, is available at an introductory price of $229 and may be purchased online at LegalAdPro.com or by calling (800)683-5982.
Links to Legal Ad Pro Product Videos:
Product Video in Standard Resolution
Product Video in HD Resolution
# # #