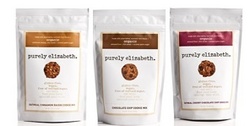 "We are committed to providing the tastiest healthy alternatives in the gluten-free marketplace," says Stein
New York, NY (PRWEB) October 4, 2010
Purely Elizabeth (http://www.purelyelizabeth.com) is pleased to announce the debut of its line of wholesome, delectable cookie mixes sweetened with hard-to-find organic coconut palm sugar. Purely Elizabeth is one of the first companies in the baking category to use this natural sweetener. The new cookie line includes three inaugural varieties; chocolate chip, oatmeal cherry chocolate chip and oatmeal cinnamon raisin. The cookie mixes expand Purely Elizabeth's already established line of all-natural and organic baking mixes that are gluten-free, certified vegan and refined sugar-free.
Organic coconut palm sugar is a nutrient rich, low glycemic (GI-35), unrefined sweetener that comes from the nectar of the coconut palm flower. Naturally brown in color, it tastes similar to brown sugar with notes of caramel and butterscotch, making it perfect for baking. According to The Food and Agriculture Organization, palm sugar is the single most sustainable sweetener in the world. "We are excited to be one of the first companies pioneering the use of this sweetener in our products," says Elizabeth Stein, founder of Purely Elizabeth.
Purely Elizabeth cookie mixes are made from the highest-quality natural and organic ingredients, loaded with health benefits and free of the bad stuff (no artificial flavors, colors, GMO's or preservatives), a welcome addition to the unhealthy gluten-free marketplace. Some ingredients include; organic millet flour, organic almond flour, organic chia seeds, organic raisins, garbanzo fava bean flour and certified gluten free oats, all of which contain high levels of vitamins, minerals and nutrients and deliver superior quality and taste.
"There is a misconception right now that gluten free equals healthy," says Stein. "The majority of gluten-free products on store shelves are filled with refined flours, sugars and are low in vitamins, minerals and fiber, making them no more nutritious then their wheat counterpart. We are committed to providing the tastiest healthy alternatives in the gluten-free marketplace," continued Stein.
Purely Elizabeth cookies each contain two grams of fiber and two grams of protein per serving. With the ease of adding a few simple ingredients, Purely Elizabeth cookies are a delicious, convenient snack or dessert that can be prepared in just minutes – a healthy indulgence you can feel good about.
About Purely Elizabeth: Purely Elizabeth is a small, family-owned natural foods company committed to healthy eating, healthy living and a healthy planet. Founded in 2009 by certified holistic nutrition counselor Elizabeth Stein, Purely Elizabeth is dedicated to providing the best tasting gluten free, vegan baked goods on the market. The current product line includes all-natural and organic pancake mix, muffin mixes and now cookie mixes free of refined sugar, dairy and gluten. As a member of 1% for the planet, Purely Elizabeth donates a percentage of their proceeds to environmental causes. For more information about Purely Elizabeth visit: http://www.purelyelizabeth.com or follow us on twitter @purelyelizabeth
# # #