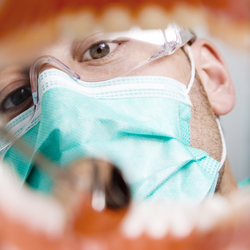 Not all dentists are experts in all fields of dentistry.
Orlando, FL (PRWEB) October 19, 2010
With the explosion of technology and ever-expanding access to the internet, a vast wealth of information is now available to everyone. From finding out what the neighbors' house just sold for, to finding the best burger place in town, to researching the causes and cures of ailments, it seems there are few questions left unanswered out there on the world wide web.
But, are these the right answers? What percentage of information is actually misinformation? According to Dr. Ryan L. Mendro, a periodontist, a dentist who specializes in gum treatments and the placement of dental implants, the "real" answers may be a surprise. "Over the last several years Precision Perio has spent an increasing amount of time in the practice trying to dispel the myths and marketing gimmicks presented to patients as sound health care advice by other practices," stated Dr. Mendro. "Technology can sometimes be a double edged sword. On the one hand, it allows for our patients to make informed, educated decisions about their health and well being, but on the other hand, it presents them with an overwhelming amount of information that is not always accurate." A recent interview with Dr. Mendro brings to light a lot of information that may help everyone make better decisions about oral health.
1. Why is oral health so important?
The mouth is the gateway to the rest of the body; unfortunately it is also one of the dirtiest places of the body. Even a clean and healthy mouth is filled with bacteria. These bacteria that are normally in the mouth can enter your blood stream through the tiny blood vessels in your gums and travel to and infect other parts of the body. Research is showing that gum infections may play a role in heart attacks, strokes, diabetes, premature births and other health problems as well.
2. If there is no pain in the teeth and gums then they must be healthy, right?
Unfortunately, no, this could not be further from the truth according to Dr. Mendro. "Certain acute infections of the teeth and mouth can cause significant pain as anyone who has ever had a toothache can attest to that. However, oftentimes, chronic infections like gum disease known as periodontitis can have little or no symptoms of pain. Clogged arteries of the heart can be present without pain and so can uncontrolled diabetics, but it doesn't mean there isn't a serious health risk involved." Gum disease can be the same way and usually doesn't hurt until the very advanced stages. Routine clinical examinations and x-rays are the only way to determine if gum disease is present.
3. Are there any dental treatments that don't hurt?
With today's advances in dentistry, treatment is easier than ever. Most treatments are virtually pain free. Even when an advanced surgical procedure is necessary, post-operative pain-control is often managed with an over-the-counter pain reliever which may only be needed for a few days. For many, sedation may be an option too. "Sedation dentistry is a great way to help manage the anxiety and apprehension that can be associated with dental procedures. Sedation allows for more work to be completed in less time and often the patients do not even remember they had the treatment.
4. What are dental implants, do they work and how expensive are they?
Dental implants are artificial tooth roots used to replace missing or hopeless teeth. After a healing period, an artificial tooth crown or cap is attached to the root. Dental implants look, feel and function like your own teeth. Dental implants are one of the most predictable treatment options in all of dentistry and have been successfully used for decades. Dental implants are now more affordable than ever. Traditional dentistry such as bridges may necessitate the repair and buildup of the adjacent teeth, not just the missing tooth, but with an implant, oftentimes adjacent teeth can be left alone, making implants comparable or sometimes even cheaper than traditional dentistry. Moreover, dental work is not just an investment in oral health but also an investment in the overall health of patients.
5. In the world of quick fixes and one stop shops, are there any dental offices that can treat everything?
Dr. Mendro explains, "While some offices and dentists will complete all aspects of dentistry, not all dentists are experts in all fields of dentistry. For example, periodontists like myself complete 3 year residencies in addition to our collegiate and dental school training where we learn exclusively about the diagnosis and treatment of gum diseases and the placement of dental implants. Medicine, has really embraced the concept of specialists a little more than dentistry has. The best physician in the world for your allergies will usually not be the best physician for performing open heart surgery. It is better to have a specialist who completes heart surgery every day. So why would you really want to see one dentist who treats everything instead of one who specializes in the particular field of dentistry that specifically pertains to you and your needs? Don't you deserve a specialist?"
Dr. Mendro is a periodontist and owner of Precision Periodontics and Dental Implants located in the Greater Orlando area. For questions about your oral health or Dr. Mendro's practice please call (407-905-6777) or visit http://www.perioprecision.com. Address: 2666 Maguire Road Orlando, FL 34761
# # #