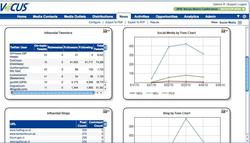 Spreadsheets and search engines weren't cutting it anymore
Lanham, MD (PRWEB) October 5, 2010
Cutting through the clutter. That's the single biggest challenge facing the PR profession today from Kirstin Pires's vantage point. "Spreadsheets and search engines weren't cutting it anymore," said Pires, director of Communication for the Association of Pool and Spa Professionals (APSP). "We needed the ability to understand the media universe, while also being surgical about who we contact and with what message."
The APSP – counting about 3,500 member organizations representing more than 10,000 individuals – recently signed with Vocus (NASDAQ: VOCS) to help tackle this problem. The association's subscription to Vocus provides access to media research, interaction tracking and monitoring for news and social media – with sentiment analysis. Pires says the association includes manufacturers, builders and retailers among its members and communication objectives often incorporate industry education, public affairs, and government relations activities.
The campaign to inform members about the Virginia Graeme Baker Pool and Spa Safety Act and the US Consumer Product Safety Commission's (CPSC) administration of it is a prime example of the type of educational campaigns the APSP conducts.
"It's very complicated," said Pires. "How people are supposed to comply with the act – they are being asked to do something they have never done before."
The legislation has attracted a great deal of attention to the industry and Pires is tasked with identifying the right influencers, be those, journalists, bloggers or other pundits, in order to communicate important facts, such as what constitutes compliance. This could be in the form of establishing best practices for meeting compliance standards and providing sound interpretations of the law.
Such communications can extend beyond just the association's members, for example, the association has embarked on a mission to support the CPSC's "Pool Safely" campaign to educate consumers and the industry on the P&SS Act. Vocus provides an efficient way, through research, monitoring and relationship building, to identify the right contacts amid the various groups with special interests in the topic.
Another compelling reason for procuring the software was Vocus' customer service Pires said. "It wasn't like they said, 'here are the keys' and left you on your own," she added. "There is constant reassurance – that if it takes me longer than a few minutes to figure out what I'm doing, I could pick up the phone and call for help – this has been a fabulous benefit."
The APSP has recently begun to experiment with social media as a channel for connecting and engaging with their stakeholders. Other APSP staff will focus on social channels, but monitoring and analysis will be conducted through the same software, which provides the association with a single, collaborative and comprehensive platform for its communication activities.
"In a Vocus survey on perceptions of influence, 62 percent of respondents said the number one reason for following people is that they post relevant content," said Phil Braden, vice president of Product Management for Vocus. "It's a fundamental principle that is second nature to PR professionals, as Kirstin's remark about being 'surgical' in her outreach indicates."
About APSP
The Association of Pool & Spa Professionals is the world's largest international trade association representing the swimming pool, spa and hot tub industry. APSP's mission is promoting consumer safety and enhancing the business success of its members. Members adhere to a code of business ethics and share a commitment to public health and safety in the use of pools, spas and hot tubs. APSP member companies include manufacturers, distributors, manufacturers' agents, designers, builders, installers, retailers, and service professionals. For more information visit APSP.org.
About Vocus
Vocus, Inc. (NASDAQ: VOCS) is a leading provider of on-demand software for public relations management. Our web-based software suite helps organizations of all sizes to fundamentally change the way they communicate with both the media and the public, optimizing their public relations and increasing their ability to measure its impact. Our on-demand software addresses the critical functions of public relations including media relations, news distribution and news monitoring. We deliver our solutions over the Internet using a secure, scalable application and system architecture, which allows our customers to eliminate expensive up-front hardware and software costs and to quickly deploy and adopt our on-demand software. Vocus is used by more than 7,100 organizations worldwide and is available in seven languages. Vocus is based in Lanham, MD with offices in North America, Europe and Asia. For more information, please visit http://www.vocus.com or call (800) 345-5572.
This release contains "forward-looking" statements that are made pursuant to the Safe Harbor provisions of the Private Securities Litigation Reform Act of 1995. These are statements that are predictive in nature, that depend upon or refer to future events or conditions, or that include words such as "may," "will," "expects," "projects," "anticipates," "estimates," "believes," "intends," "plans," "should," "seeks," and similar expressions. This press release contains forward-looking statements relating to, among other things, Vocus' expectations and assumptions concerning future financial performance. Forward-looking statements involve known and unknown risks and uncertainties that may cause actual future results to differ materially from those projected or contemplated in the forward-looking statements. Forward-looking statements may be significantly impacted by certain risks and uncertainties described in Vocus' filings with the Securities and Exchange Commission.
The risks and uncertainties referred to above include, but are not limited to, risks associated with possible fluctuations in our operating results and rate of growth, our history of operating losses, interruptions or delays in our service or our Web hosting, our business model, breach of our security measures, the emerging market in which we operate, our relatively limited operating history, our ability to hire, retain and motivate our employees and manage our growth, competition, our ability to continue to release and gain customer acceptance of new and improved versions of our service, successful customer deployment and utilization of our services, fluctuations in the number of shares outstanding, our ability to integrate acquisitions, foreign currency exchange rates and interest rates.
# # #