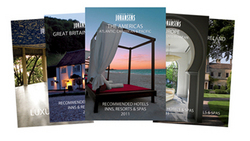 L'Occitane and Condé Nast Johansens are two exceptionally strong and widely-recognized brands, respected and trusted by discerning travelers.
New York, New York (PRWEB) October 5, 2010
As a luxury beauty and lifestyle brand known in over 80 countries, L'Occitane en Provence is the perfect partner for Condé Nast Johansens. For over 30 years, L'Occitane has been using natural ingredients to create effective skincare, irresistible fragrances and sensuous spa treatments. By partnering with L'Occitane, Condé Nast Johansens offers the hotels in their exclusive portfolio the opportunity to share an unforgettable sensorial experience with their guests. Their amenities range, already sought-after by hotel and cruise ships, include Verbena, Aromachologie, Ruban d'Orange and Shea Butter, as well as accessories and mini products.
"Quality, choice, flexibility and a sustainable policy is of great importance to hoteliers as well as an exceptionally efficient and friendly service when selecting toiletries," said Fiona Patrick, Client Services Director of Condé Nast Johansens. "The portfolio of Condé Nast Johansens recommended properties, whether they are a Caribbean resort complete with spa, a country retreat, a city hotel, glamorous villa or small inn with character will be pleased that L'Occitane checks all these boxes. We look forward to working closely with them."
L'Occitane is a socially responsible company and their concern for the environment has led to the development of a 'clean factory' --the use of environmentally friendly packaging and reductions in the levels of unnecessary packing material. Later this year, they also plan on introducing a new Refill program which promotes eco-awareness by reducing waste products and packing waste.
Leela Petrakis, Managing Director, L'Occitane USA remarks, "L'Occitane and Condé Nast Johansens are two exceptionally strong and widely-recognized brands, respected and trusted by discerning travelers. I am delighted that we have created a partnership to bring the L'Occitane luxurious beauty products from Provence to exclusive four and five star properties across the USA."
The portfolio of preferred partners carefully selected by Condé Nast Johansens can help recommendations across a wide range of needs - from refurbishments, specialist services, and enhancing the guests' stay. In addition to L'Occitane, preferred partners include Hildon Natural Mineral Water, Knight Frank, Taittinger Champagne, Jardine Lloyd Thompson, Willis & Gambier furniture, Café du Monde, Kohler, and Forbes televisions.
ABOUT CONDÉ NAST JOHANSENS
Condé Nast Johansens remains the most comprehensive illustrated reference to annually inspected, independently owned hotels and spas. With dedicated and highly trained Inspectors, almost five times as many properties have been assessed as appear in the Guides. Inspectors narrow the final selection down to endorse the best selection of accommodation for independent travelers.
Condé Nast Johansens is now in its 29th year of publishing, and the new 2011 Guides, published October 2010, have easy to use entries, comprehensive maps and greater portability. The guides are supported by the Condé Nast Johansens website which meet the demands of those preferring to search and make booking enquiries online.
L'Occitane (pronounced Lox-ee-tan) brings you natural beauty from Provence captured in unique body care products and fragrances made from the finest and most effective time-honored traditional ingredients. Inspired by the famous art de vivre of Provence, L'Occitane products are rich in active natural ingredients and beautifully scented. L'Occitane ranges will delight both men and women from uplifting Verbena to soothing Shea.
L'Occitane was founded in Provence in 1976, by Olivier Baussan, who continues in his role as L'Occitane Creative Director. No L'Occitane product or ingredient is tested on animals. The best-selling range is Shea Butter and our Shea Butter is fairly traded with a women's co-operative in Burkina Faso, Africa.
For further information please contact Nicky Eaton, Harriet Robertson or Charlotte Drewry in the Condé Nast press office on 020 7152 3377/3388/3474. The America's press office: Lesley O'Malley-Keyes (603) 643-2430 or Tiffany Dowd (617) 803-1608.
# # #