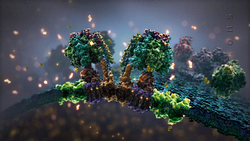 Inner Life of the Cell
Rocky Hill, CT (Vocus) October 4, 2010
The "Inner Life of the Cell" series of animations for Harvard's BioVisions Program has a new chapter, "Powering the Cell: Mitochondria." Harvard University and Connecticut based scientific animation company, XVIVO, are proud to announce the release of this next chapter following up on the award-winning success of the "The Inner Life of the Cell" animation. "Powering the Cell: Mitochondria," highlights mitochondrial metabolism, the first of several cellular processes to be explored in this format.
"Inner Life of the Cell" was originally intended for undergraduate life sciences students at Harvard. However, the animation went viral after being shown in the Siggraph Electronic Theater in 2006. The mix of publicity, criticism and acclaim proved that there was an unmet demand for compelling scientific visuals that educate as well as inspire. "It's quite clear that we understand the world primarily through sight,"says Dr. Robert Lue Ph.D., Director of Life Sciences Education at Harvard and a professor in the Department of Molecular and Cellular Biology. "Somehow we don't use that in teaching science as we really should." (Source) Both Harvard and XVIVO received letters from students, teachers, and scientists all over the world, asking when the next chapter would be available. Well, the wait is over.
The newly released four and a half minute animation, "Powering the Cell: Mitochondria," transports students into the three-dimensional microscopic world of mitochondria. The animation highlights the production of Adenosine Triphosphate (ATP) – mobile molecules which store chemical energy derived from the breakdown of foodstuffs. ATP molecules act as a kind of currency, imparting chemical energy to power most of the cell's activities.
Dr. Lue points out "The production of ATP is a fundamental process in all living organisms, and here we show it in the context of an animal cell's mitochondria. It is the combination of many proteins specifically arranged within mitochondria that allow this amazing process to occur, so we wanted to visualize a more complete picture. This presented both the challenge and exciting opportunity to represent several aspects of mitochondrial structure and activity that have never been visualized before. We hope this will add to the viewers' understanding and appreciation of one of the cornerstones of metabolism."
David Bolinsky, XVIVO Partner and Medical Director notes; "One of the challenges in creating this follow-on animation, on mitochondrial metabolism, was to retain the sense of wonder we established in the pilot. We created a huge, wonderfully complex and dynamic space, retaining the 'coral reef' coloring and design of the original. We included thousands more molecules occupying the environment and added more detail on the items of interest."
Michael Astrachan, XVIVO Partner and Creative Director, and John Liebler, lead animator, worked closely with Dr. Robert Lue and Dr. Alain Viel, Ph.D., Director of Undergraduate Research at Harvard University to bring their vision to life. Astrachan remarks, " Working with Alain and Rob is a wonderful collaborative experience. The discussions with them about intricate science details and aesthetic choices are always incredibly instructive and inspiring."
XVIVO's animation plays an instrumental role in the BioVisions at Harvard program established by Dr. Lue with grant funding from the Howard Hughes Medical Institute. BioVisions is a computer-based learning environment for undergraduate students that will allow them to delve into the science of cellular study with more depth and opportunities to enhance their understanding. Dr. Lue describes BioVisions as a long-term project which brings top multimedia professionals together with students and faculty to harness multimedia applications – from streaming video to three-dimensional renderings – to further understanding of laboratory techniques, protein structures, and molecular and cellular processes (Harvard University Gazette, 2002.)
A two-minute condensed version of BioVision's "Powering the Cell: Mitochondria" is now available for viewing through Harvard's BioVisions website, as well as the original ground breaking and award-winning "Inner Life of the Cell" animation.
About XVIVO Scientific Animation
XVIVO's award-winning animation studio creates internationally acclaimed 3D animation for pharmaceutical, medical device and biotech companies, advertising agencies, educational organizations, museums and broadcast companies. XVIVO develops customized animations and communication tools that are scientifically accurate as well as visually compelling. Some of their pieces include mechanism of action and mechanism of disease programs, surgical procedures and diagnostic systems, instructional step-by-step use of medical devices, as well as interactive programs and games. XVIVO's client list includes: Sanofi-Aventis, Kinetic Concepts, Inc., Shire, Takeda, and Museum of Science and Industry in Chicago.
###