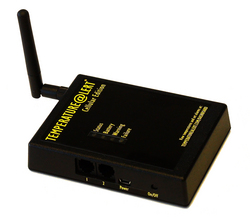 Regulations are driving the requirements for full traceability. TM- CELL300 with Store & Forward Data Logging provides such a record for remote, geographically distributed and mobile locations at a very cost-effective price.
Boston, MA (PRWEB) October 5, 2010
Temperature@lert today announced the addition of Data Logging to its Cellular Edition TM-CELL300 wireless temperature and humidity sensor. Called Store & Forward Data Logging, this feature provides a complete temperature and/or humidity log of readings that were unable to be transmitted or received by Temperature@lert's Dashboard secure servers due to lack of cellular connection.
In normal operation, the TM-CELL300 transmits its data to the Dashboard secure servers every 15 or 60 minutes depending on the service plan selected. In some instances such as poor signal quality or temporary lack of cellular signal, in mobile applications for example, the data is not able to be transmitted or received. The Store & Forward Data Logging function will retain from 2 to 10 days of measurements in the TM-CELL300's memory. These will be transmitted to the Dashboard Secure Server at the next successful connection to provide a complete history of the environment being monitored.
"More and more of our customers are reporting the need for complete records of the environments they are monitoring," notes Harry Schechter, Temperature@lert Founder and CEO. "We see customers in Hospitals, Doctor's Offices and Medical Supply distribution concerned about storage temperatures of pharmaceuticals, biological materials and vaccines for example. The viability of these materials is very dependent on storage conditions, and a complete record is required for product safety. Likewise, Food Distributors and Retailers as well as Restaurants and Caterers rely on safe storage of their products to insure quality and safety. Regulations such as HACCP (Hazard Analysis Critical Control Point) are driving the requirements for full traceability. TM- CELL300 with Store & Forward Data Logging provides such a record for remote, geographically distributed and mobile locations at a very cost-effective price."
Combined with the CELL300's advanced features such as multipoint temperature and/or humidity monitoring, Advanced Alerting that allows users to send alert messages for to multiple emails addresses and text messages to multiple telephone numbers plus voice alert messages for added insurance. Alerts can be set by the user at multiple temperature and/or humidity levels for escalation plan implementation. Store & Forward adds a new level of safety and traceability and provides the peace-of-mind of knowing products are safe and secure. And Temperature@lert's optional NIST certified temperature probes are available for those customers requiring additional traceability."
Additionally, the web browser based Dashboard interface can be configured to provide alerts when the device does not report in after a few reporting intervals using the HealthCheck feature. PowerSense can send an alert when the device is no longer charging from the 120VAC or 5VDC power supply or when there is a low battery warning. And most importantly, users receive an "all clear" message when the device returns to normal operation or all temperature alert messages are cleared.
Customers have noted how easy to install, set up and use the Cellular Edition products have been. And very affordable, all inclusive, month-by-month service plans provide customers with the reporting they need at a price they can afford with no long term contract required with no cancellation fees. Customers using the iPhone find Temperature@lert's App both handy and informative.
Details about Store & Forward Data Logging and other features of the TM-CELL300 can be found at http://www.temperaturealert.com/Remote-Temperature/Temperature-Alert-Cellular-Sensor.aspx.
About Temperature@lert
Temperature@lert (http://www.temperaturealert.com) is the leading provider of low-cost, high-performance temperature monitoring products. Our products provide early warning of temperature changes before it's too late. Since launching, over 10,000 Temperature@lert products have been sold to customers in over 40 countries. Temperature@lert systems are protecting over $250,000,000 of customer assets.
Media Contact
Dave Ruede
866-524-3540
dave(at)temperaturealert(dot)com
###