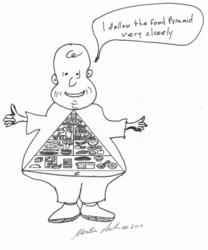 In The Face Of Contradictory Evidence: Report Of The Dietary Guidelines For Americans Committee
New York, NY (Vocus) October 4, 2010
The October issue of the journal Nutrition contains an article by Hite et al. that soundly criticizes the June Report of the 2010 Dietary Guidelines Advisory Committee (DGAC) (http://download.journals.elsevierhealth.com/pdfs/journals/0899-9007/PIIS0899900710002893.pdf). The authors of the article, who are associated with the Nutrition and Metabolism Society, stress that the Report fails to conform to acceptable standards of evidence-based medicine. The article went on to point to the numerous occasions the DGAC failed to consider recent scientific results while selectively referring to evidence that supported predetermined conclusions.
The Dietary Guidelines serve as the foundation for nutritional information for Americans. The Guidelines highly influence nutritional labeling and drive food industry marketing and product development. They also influence nutrition education, research, state and national policies and school lunch programs. Because the Dietary Guidelines are the product of the Institute of Medicine and the Department of Agriculture, they have generally been immune from criticism. However, growing consumer confusion and the national obesity epidemic have made it clear that the Guidelines are totally ineffective.
The authors contend that a panel of independent scientists without ties to nutritional policy is required in order to impartially evaluate all of the available data.
Morton Satin of the Salt Institute maintains that, "The Guidelines have become more a reflection of ideology than science. Before the 2010 process began, key members of the DGAC were widely quoted in the press providing their expected outcomes, thus compromising the process and making final recommendations a forgone conclusion. When we transmitted a comprehensive inventory of peer-reviewed evidence to the DGAC, they selectively picked only data that supported their preconceived agenda."
The DGAC Report blames the inability of Americans to follow the Dietary Guidelines for health problems, but the article by Hite et al. explains that in the past thirty years national consumption has followed the direction of the Guidelines' recommendations with the result that the rates of obesity and Type 2 Diabetes have skyrocketed.
The article is entitled "In The Face Of Contradictory Evidence: Report Of The Dietary Guidelines For Americans Committee" by Adele H Hite, MAT; Richard D Feinman, PhD; Gabriel E Guzman, PhD; Morton Satin, MSc; Pamela Schoenfeld, RD; Richard J Wood, PhD. It appears in Nutrition, Volume 26, Issue 10 (October 2010) published by Elsevier. DOI: 10.1016/j.nut.2010.08.012.
Contact:
Mort Satin
VP of Science & Research
703-549-4648
morton(at)saltinstitute(dot)org
###