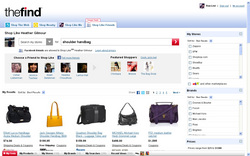 We all have friends whose tastes and opinions we respect or who have a personal style we want to emulate
San Francisco, CA (PRWEB) October 5, 2010
San Francisco, Calif., October 5, 2010 – Starting today, shoppers signing into TheFind using Facebook will get a "sneak peek" of TheFind's upcoming social commerce feature Shop Like Friends. Now when you connect to TheFind using Facebook you can automatically shop like any of your friends based on the stores and brands they have 'liked' on Facebook.
"We all have friends whose tastes and opinions we respect or who have a personal style we want to emulate," said Ron Levi, VP of Product at TheFind. "Shop Like Friends helps you tap into your friends for their ideas and discover new things through them."
Shop Like Friends utilizes Facebook's Single sign-on capability. When you sign on, TheFind requests permission to access the pages you and your friends have "liked" on Facebook, then maps the stores and brands it detects to over 40,000 individual stores and brands on TheFind. The September release of Shop Like Me used the same basic capabilities, but only allowed people to shop using their own tastes and preferences.
"This 'sneak peek' is a hint about how we plan to evolve Shop Like Me, the set of personalized shopping tools released last month," continued Levi. "This is new territory…people aren't yet accustomed to running into their friends while they're shopping online, the way they do at the mall, and we want to make sure that TheFind's consumer-oriented shopping experience remains our primary focus as we build out a richer set of personal, social and mobile shopping tools."
Addressing both the opportunities and risks inherent in social commerce, Siva Kumar, CEO of TheFind will participate along with Charlene Li in the closing panel of the Altimeter Group's inaugural Rise of Social Commerce conference on Thursday. Entitled, "Frictionless Commerce: Turning Conversations Into Conversion," the panel will explore the mindset of people while engaged in social networking, forecasting their proclivity for engaging in social commerce.
About TheFind
TheFind makes it easy to shop, for anything you like, in every store, all at once. Made possible by patented search and discovery technology, TheFind is the fastest growing shopping engine, the second largest overall, and the one people return to more than any other according to comScore's measure of comparison shopping engines. Ranked number 12 on the 2010 Inc. 500 list of fastest growing private companies, TheFind was founded in 2005, has been profitable since late 2008, and was venture funded by Bain Capital Ventures, Lightspeed Venture Partners and Redpoint Ventures. TheFind is a San Francisco and Silicon Valley-based company.
###