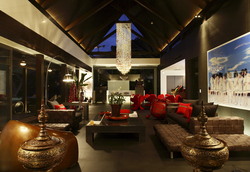 "We are living in a vastly different property market in Phuket compared to the market prior to the global meltdown", says Joanne Baylis, Founder of Awesome Villas. "The demand is now for completed luxury resale villas rather than off-plan villa projects.
(PRWEB) October 6, 2010
Last week there was a collective sigh of relief from Phuket's property industry when C9 Hotelworks, Asia Pacific's leading hospitality consultancy firm, released their mid-year market update for Phuket's luxury real estate market.
The newsletter reported that 14 high-end villas with prices starting at $US 2 million were sold in Phuket, Thailand in the first eight months of 2010 for a total trading volume of $US 76 million.
But perhaps the most telling figure from the report is that 83% of the total trading volume came from resale villas. (See the full report at http://www.thephuketinsider.com/newsletters/2009-09-01.php.)
"A lack of new launches and fresh products that could boost induced demand are presently absent from the mix. Resale via a 'switch effect' continues to capture buyer's imaginations," the newsletter reported.
"Without a doubt we are living in a vastly different property market compared to the market prior to the global meltdown", says Joanne Baylis, Founder of Awesome Villas, who represents owners of oceanfront and sea view properties for sale on Phuket's west coast. "New buyers of luxury property in Phuket want completed properties and since there is almost no inventory of newly-built villas, the demand for resale villas is high."
Another continuing trend the report highlighted was the growing popularity of Phuket's west coast region which features Thailand's most expensive real estate and includes the Kamala, Surin, Bangtao, Laguna and Naithon areas.
"West coast properties dominated the luxury market with 39% of value and 57% of total transactions," confirms Bill Barnett, Managing Director of C9 Hotelworks. "This region is becoming an iconic Asian island getaway where the rich and famous come to unwind,"
Awesome Villas.com, the property portal where luxury property investors have direct access to owners of Greater Phuket's most exclusive property for sale, is poised to capitalize with five of Asia's most expensive and spectacular tropical dream homes for resale in the growing "Asian Riviera":
VILLA CHAN GRAJANG
Price Guide: $US 8 Million
Location: Surin, Phuket
Website: http://www.villachangrajang.com
Description: Located in Thailand's most sought-after Surin Beach neighborhood sits Villa Chan Grajang – one of Asia's most spectacular tropical lifestyle properties. This secured estate comprises two separate villas, each with its own swimming pool, with a total indoor/outdoor living space of 24,445 square feet. The private one-acre plot has breathtaking Indian Ocean views from its perch high above Surin Beach. Villa Chan Grajang is one of Phuket's top luxury vacation rentals and is already providing a substantial annual return. Maintained, serviced and staffed to a five-star resort standard, this is a turnkey holiday and investment property that will continue to appreciate.
Villa Chan Grajang Online Image Bank: https://www.onlinefilefolder.com/3fgwRFqDZPWqi5
VILLA YIN
Price Guide: $US 7.25 Million
Location: Kamala, Phuket
Website: http://www.villayin.com
Description: Recently named one of South East Asia's Most Luxurious Properties by the Asia Property Report Magazine, Villa Yin is a work of art for sale. This palatial villa mixes elements of classic Thai architecture and a dazzling collection of contemporary art with an ultra–luxury design approach. Situated along Phuket's incredible sunny west coast on the Kamala headland's water edge, Villa Yin's spectacular half-acre lot overlooks the breathtaking turquoise waters of the Andaman Sea. Delight in the villa's open tropical living plan which showcases four elegant bedrooms with luxury en suites and a marble pool that wraps around expansive outdoor entertaining platforms. It also features a private stairwell down to a natural sea enclave.
Villa Yin Online Image Bank: https://www.onlinefilefolder.com/3fa2SiC9eFzvhH
LIBERTY
Price Guide: $US 7 Million
Location: Kamala, Phuket
Website: http://www.libertyphuket.com
Description: Stunning, new cliff-side mansion with an elevator lift and a private man-made beach. This grandiose, five-level luxury estate, situated on a dramatic and secluded oceanfront headland on Phuket's 'Millionaires Mile', is one of the finest oceanfront estates for sale in Asia. Panoramic sea views set the scene for five levels of world-class living, complete with elevator access to five bedrooms, a consummate cinema and entertainment room, a master European kitchen, an incredible infinity pool and Liberty's own private man-made beach. Liberty is a world-class residence of outstanding design and location offering complete privacy and security yet it is only a short drive to the island's best beaches, restaurants, golf courses, nightlife and shopping.
Liberty Online Image Bank: https://www.onlinefilefolder.com/3ffXj5neyi5ke4
VILLA YANG
Price Guide: $US 4.25 Million
Location: Kamala, Phuket
Website: http://www.villayang.com
Description: Perched on a private cliff on Phuket's most prized Millionaires' Mile lies the sophisticated, four-bedroom Villa Yang, where ancient 'yin yang' philosophy is personified through its luxurious natural environment, architecture and interior design. Conceived by respected Thai architect Charupan Wiriyawiwatt of Hong Kong-based Naga Concepts, owners lounge and entertain over the wondrous Andaman Sea in Villa Yang's open-plan kitchen, dining and living area or outdoors from the 17-meter infinity pool deck. The four-level villa offers individual privacy with four elegant bedrooms, each with a private en suite and sea view deck. The two neighboring plots are also available for an expanded compound.
Villa Yang Online Image Bank: https://www.onlinefilefolder.com/3f7vVn0GRR5xlR
VILLA OOM
Price Guide: $US 2.5 Million
Location: Surin, Phuket
Website: http://www.villaoom.com
Description: A sophisticated tropical lifestyle awaits you at Villa Oom, which is located in one of Asia's most unique and trendy seafront residential estates on the ultra-exclusive oceanfront headland between Phuket's Surin and Laem Singh beaches. Perfect as a luxurious beach house for affluent couples or a swinging bachelor pad, Villa Oom features four spacious bedrooms with stylish en suite bathrooms spread out over four sea view levels. Villa Oom's main indoor/outdoor living space showcases a cliff-side infinity pool with sea view lounge areas and a stylish kitchen, living and dining room. This chic retreat looks out over the powdery-white sand of Surin Beach towards the sunsets of the pristine Andaman Sea.
Villa Oom Online Image Bank: https://www.onlinefilefolder.com/3flvFaPPtXWuFJ
ABOUT AWESOME VILLAS: Awesome Villas is southern Thailand's quintessential source for luxury vacation rental homes and oceanfront and sea view properties for sale in the Phuket region. For additional information about these awesome villas for sale or rent, visit http://www.awesomevillas.com. For sales enquiries please contact Joanne Baylis at sales@awesomevillas.com
###