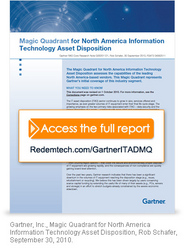 "At Redemtech, we believe leadership requires delivering a level of service that goes beyond the requirements of the typical RFP – as a leader we work to improve our customers' businesses.
Columbus, OH (PRWEB) October 12, 2010
Redemtech, a world leader in IT asset disposition (ITAD) and Technology Change Management (TCM), today announced it has been positioned by Gartner, Inc. in the Leaders quadrant of the North America Information Technology Asset Disposition 2010 Magic Quadrant.* This Magic Quadrant represents Gartner's initial coverage of the ITAD industry.
Gartner's Magic Quadrant for Information Technology Asset Disposition is based on an assessment of a company's completeness of vision and ability to execute. Gartner noted that companies in the Leaders quadrant "execute well against their current robust vision, and are well positioned for the future. The vendors in the Leaders quadrant register the highest scores on Ability to Execute and Completeness of Vision. These vendors have wider geographic coverage, both within North America and globally. Significant weight is placed on geographic coverage through direct, owned and operated facilities (vs. indirect coverage through partners), with special emphasis on North America. While this Magic Quadrant specifically evaluates the North American ITAD marketplace, our research indicates that many North America-based multinational enterprises place significant value on a robust international ITAD presence. Vendors in the Leaders quadrant are also characterized by comprehensive sales organizations, financial stability, a clear and consistent commitment to the ITAD market, comprehensive customer support, broader service portfolios, and larger market presence."
The full Gartner Magic Quadrant for Information Technology Asset Disposition report is available at no charge on Redemtech's website, along with other resources that help companies learn about best practices in the ITAD industry. The site features white papers, blog posts by industry experts, regulatory databases and Redemtech's free Sustainable Computing Assessment, which helps companies see how their ITAD programs compare to industry best practices in key areas such as productivity, reuse, accountability, energy and environmental social responsibility, among others. The self assessment can be completed in about 15 minutes.
According to Gartner, "As ever greater volumes of IT equipment enter their final lifecycle stage, IT asset managers are more closely evaluating their ITAD processes and providers to address two primary risk areas – data security and proper disposition of e-waste – as well as more comprehensive legislative mandates and stricter penalties for non-compliance. Companies we have identified as Leaders in the ITAD market execute well against their current robust vision and are well positioned for the future."
We believe the positioning in the Leader quadrant reflects the company's long-term commitment to industry leadership, said Redemtech President Robert Houghton.
"At Redemtech, we believe leadership requires delivering a level of service that goes beyond the requirements of the typical RFP – as a leader we work to improve our customers' businesses," said Houghton. "We consider it a testament to our ability to understand our customer's business problems, provide solutions that set new industry standards for security, efficiency and sustainability, and make our customers more competitive in their own field."
Key factors in Redemtech offerings include:

Global certification.E-Stewards is the only globally accredited, third-party audited certification program that ensures recyclers operate in accordance with all applicable local, national and international laws. E-Stewards was developed by the Basel Action Network (BAN), with support from environmental groups, industry leaders and the U.S. EPA. Redemtech is now also the first company to achieve e-Stewards certification outside of the U.S. for a facility in Europe. Redemtech's certifications under ISO14001, the IDC Green Recycling and Asset Disposition for Enterprise (G.R.A.D.E.) program and the Microsoft Authorized Refurbisher program.
Geographic coverage. Redemtech operates four U.S. TCM facilities and six international TCM centers that conform to the same operational and client management standards. The services provided outside the U.S. are under Redemtech's process control system, and all customer business rules, inventory, reporting, accounting and Web services are managed centrally from its corporate headquarters in Ohio. Redemtech's international TCM centers are located in Canada, Mexico, the United Kingdom, the Netherlands and Poland.
Data security and logistics capabilities. Redemtech operates more than 50 North American receiving centers, an approach that minimizes transportation costs and helps eliminate in-transit loss of IT assets that can result in data security breaches.
*Gartner, Inc., Magic Quadrant for North America Information Technology Asset Disposition, Rob Schafer, September 30, 2010.
About Redemtech
Redemtech Technology Change Management (TCM) services help organizations increase IT asset utilization and assure regulatory compliance during technology transitions. Redemtech provides an outsourced solution to TCM that uses best practices and automated technologies to implement and manage processes for deploying, redeploying and decommissioning computer systems. Redemtech clients can realize a 40 to 70 percent reduction in asset recovery and disposition costs, while achieving 100 percent warranted data security and environmental compliance assurance. Redemtech is a wholly owned subsidiary of Micro Electronics, one of the largest privately held technology companies in the United States. For more information on Redemtech visit http://www.redemtech.com.
About the Magic Quadrant
The Magic Quadrant is copyrighted 2010 by Gartner, Inc. and is reused with permission. The Magic Quadrant is a graphical representation of a marketplace at and for a specific time period. It depicts Gartner's analysis of how certain vendors measure against criteria for that marketplace, as defined by Gartner. Gartner does not endorse any vendor, product or service depicted in the Magic Quadrant, and does not advise technology users to select only those vendors placed in the "Leaders" quadrant. The Magic Quadrant is intended solely as a research tool, and is not meant to be a specific guide to action. Gartner disclaims all warranties, express or implied, with respect to this research, including any warranties of merchantability or fitness for a particular purpose.
###