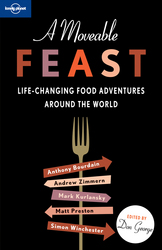 Oakland, CA (Vocus) October 7, 2010
A Moveable Feast presents a collection of travelers' tales set around the world, written by a well-seasoned spectrum of contributors, from celebrity chefs and best-selling travel writers to never-before-published travelers. The theme threading through this delectable multicourse concoction will be the inimitable ability of food to inspire our serendipities, satiate our senses and enlighten our journeys – in short, to transform the planet into an endless all-you-can-eat buffet for mind, soul, and stomach.
35 Stories from Chefs, Food Writers & Travel Writers
Anthony Bourdain, Jan Morris, Pico Iyer, Rhona McAdam, Laurence Mitchell, David Downie, Elisabeth Eaves, Anita Breland, William Sertl, John Newman, Andrew Zimmern, Henry Shukman, Lawrence Millman, Tim Cahill, Amanda Jones, Mark Kurlansky, David Lebovitz, Emily Matchar, Ruth Rabin, Johanna Gohmann, Matthew Fort, Alexander Lobrano, Anthony Sattin, Stanley Stewart, Dough Mack, Liz MacDonald, Matt Preston, Jim Benning, Andrew McCarthy, Simon Winchester, Larry Habegger, Naomi Duguid, Sean McLachlan, Stefan Gates, Jeff Greenwald, Laura Fraser, Jeffrey Alford, Karen Coates
Edited by Don George
Don has been a pioneering travel writer and editor for three decades and frequently appears as a travel expert in print, on radio and on TV. He has visited more than 70 countries, published more than 750 articles in newspapers and magazines around the globe, and has won numerous awards for his writing and editing.
About the Book:
A Moveable Feast
296pp, paperback, $14.99
ISBN: 978 1 74220 229 7
October 2010
###