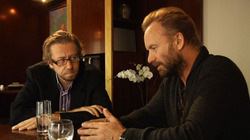 "Instead of a time of cynicism and destruction, 2012 could be an epoch when people make a quantum leap in consciousness, it is my hope this film will inspire a grassroots movement," states Pinchbeck
New York, NY (PRWEB) October 7, 2010
Can we evolve consciousness? Can we align ourselves with nature? Can we redesign our civilization? These questions and more are explored in the new documentary film, 2012: Time for Change (Mangusta Productions) slated for theatrical release in Los Angeles at the Laemmle's Sunset 5 October 8th and in New York City at the AMC Loews Village 7 for exclusive limited engagements.
The evening screenings are followed by a post Q&A with experts featured in the film and leading luminaries in their respective fields including Mallika Chopra , Founder of Intent.com , don Jose Ruiz author and Toltec Shaman, Elizabeth Thompson of the Buckminster Fuller Institute, Yogi Ganga White, Tiokasin Ghosthorse and more.
Directed by Emmy Award nominee João Amorim, the film follows journalist Daniel Pinchbeck, author of the bestselling book, 2012: The Return of Quetzalcoatl, on a quest for a new paradigm that integrates the ancient wisdom of tribal cultures with modern science. This provocative independent film posits, "As conscious agents of evolution, we can redesign post-industrial society based on ecological and spiritual principles to make a world that works for all?"
2012: Time for Change presents a refreshing and optimistic alternative to apocalyptic doom and gloom and features leading experts, scientists and celebrities including; Sting, Ellen Page, David Lynch, Barbara Marx Hubbard, Gilberto Gil, Dean Radin, Buckminster Fuller, Paul Stamets, Shiva Rea, Bernard Lietaer, Terrence McKenna , Ganga White and many more.
"While my book may have sparked the project, this amazing film is the result of Joao's incredible persistence and artistic vision. states Pinchbeck. He adds, "Instead of a time of cynicism and destruction, 2012 could be an epoch when people make a quantum leap in consciousness and unite to oppose those rampant forces of militarism, corporate greed, and decadence that feed parasitically on our ignorance. When we no longer see ourselves as passive victims, we can become active participants in the creative process of evolution, and build a world that our descendants will be proud to inherit."
Rather than breakdown and barbarism, 2012: Time for Change heralds the birth of a regenerative planetary culture where collaboration replaces competition, where exploration of psyche and spirit becomes the new cutting edge, replacing the sterile materialism that has pushed our world to the brink of destruction. Many progressive topics are explored in the film including: shamanism, yoga and alternative spirituality, psychic phenomena, psychotropic medicine, ecological design, permaculture, sustainability, and more.
2012: Time for Change is produced by Mangusta Productions in association with Curious Pictures and Postmodern Times and is being distributed by Mangusta Productions and Intention Media. Running Time: 86 minutes. For more information please visit: http://www.2012timeforchange.com
For review copies, interview opportunities and more please contact: Jill Mangino, Circle 3 Media, 908.637.6022, Jill(at)circle3media(dot)com or Betsy Chasse , Intention Media betsy(at)intentionmediainc(dot)com
# # #