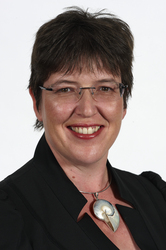 Kerry is a champion for all customers of Northampton Borough Council and will actively move any barrier to ensure they get the service they deserve."
(PRWEB) October 8, 2010
Kerry Greaves from Northampton Borough Council has been voted Customer Champion 2010 by the Institute of Customer Service.
The Customer Champion initiative was run during National Customer Service Week – which is owned and managed by the Institute - to find customer-facing employees who deserved special praise for the service they deliver. Kerry beat off stiff competition from more than 350 entries to be crowned champion.
She was nominated by her colleague Cheryl Doran, who was delighted to have the opportunity to highlight the great work Kerry does every day.
Councillor Brian Markham, Northampton Borough Council's cabinet member for customer services said: "Kerry is a champion for all of our customers, embracing the spirit of customer services and working hard to move any barrier to ensure people get the service they deserve when they come to our offices.
"She regularly goes the extra mile for our customers at our One Stop Shop, sets a fantastic example for the Council and clearly has the respect of her colleagues to be nominated for this award. She does all of this with a smile and positive manner and I am delighted to see her get the recognition she deserves."
Kerry Greaves, Northampton Borough Council's customer services project manager said: "I'm thrilled and very, very honoured to receive this award. I am so proud of all my colleagues in customers services, and all those others who deal directly with our customers on a day-to-day basis. I think they are all champions and it's a real team effort. Delivering excellence in everything we do, even the little things like a welcoming smile and asking if there is anything else we can do to help, has such a positive effect and truly enhances our customers' experience."
Institute chief executive, Jo Causon, commented: "Kerry is a perfect example of someone who puts the needs of customers at the heart of everything she does. She is a credit to her employer and a role model for all professionals working in frontline service roles.
"Customer service needs to be on the agenda at the very top of an organisation for it to work well on the front line. Organisations that understand and recognise this are the ones who will reap the biggest benefit."
The Institute recognised excellence across nine UK regions. The regional winners were:

Sharon Dyra, Barnet Council, London
Ashley Knott, Skandia, East of England
Jenny Dsouza, Energy2, South West England
Paula Richwood, Sheffield Teaching Hospitals NHS Foundation Trust, North East England
Ben Heathcote, Virgin Balloons, West Midlands
Julia Good, Liverpool Direct Careline, North West England
Carolanne McLaren, Prudential, South East England
Cecilia King, Scottish Daily Record & Sunday Mail, Scotland and N. Ireland
Kerry Greaves, Northampton Borough Council, East Midland – overall winner.
Notes to editors:
About the Institute of Customer Service
The Institute of Customer Service is the professional body for customer service whose primary purpose is to lead and raise customer service performance and professionalism.
It is the authoritative voice of customer service and a catalyst for all those whose focus is on the delivery of world-class service experiences.
The Institute is a membership body with a community of 350 organisational members – from the private, public and third sectors – and around 7,000 individual memberships.
http://www.instituteofcustomerservice.com
About National Customer Service Week
National Customer Service Week is owned and managed by the Institute of customer service and is the world's largest celebration of customer service. It takes place during the first full week of October every year. It is a chance for organisations to highlight the importance of customer service within their organisation and to show their customers that they are serious about the service they provide.
Customer Champion 2010
The Customer Champion initiative is run annually to coincide with National Customer Service Week. It is designed to recognise and reward employees who go the extra mile to provide great customer service. Nominated by colleagues, nine regional UK winners are chosen from which the overall Customer Champion is chosen.
For further information contact: Duncan Baker, director of strategic marketing and communications – 01206 216180 – duncan(dot)baker(at)icsmail(dot)co(dot)uk
###