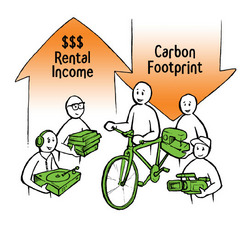 "A trend that is on the up and up."
San Francisco, CA (PRWEB) October 8, 2010
Rentalic, Inc., whose innovative web platform promotes sharing and reuse of goods among friends, family, and neighbors, will join forces with 350.org and Hayes Valley Farm to host an event at the 10/10/10 Global Work Party this Sunday (1:30 - 5:30PM) at Hayes Valley Farm in San Francisco. 10/10/10 marks 350.org's second annual international event – encompassing more than 6,000 scheduled Global Work Parties across 180 countries. Participants of every 10/10/10 event will partake in various activities aimed at reducing carbon emissions.
Rentalic recently launched "Share It Forward!", a national campaign encouraging people to share or rent one item on http://www.rentalic.com and forward their listing to three other people, encouraging them to do the same. Rentalic will promote "Share It Forward" at its Global Work Party event to help urban farmers and gardeners rent and share their tools and other garden items in an effort to reduce consumption and ultimately reduce the community's collective carbon footprint. Rentalic staff will guide attendees through the process of posting and renting items on http://www.rentalic.com. Attendees are encouraged to bring items, especially garden and farm tools that they can post for rental.
Rentalic's "Share It Forward" campaign comes fresh off the heels of its recent string of accolades, which include winning Make Magazine's Editor's Choice Award, capturing the PayPal X Developer Challenge's first place award for innovation, advancing to the final four of Myoo Create's "Beat the Waste Challenge", and scoring a nationally televised segment on Oprah affiliate – the Nate Berkus Show (http://www.youtube.com/watch?v=HNoMRx2lnb8).
"It seems like a perfect way to use technology to conserve our scarce resources. When you think of it, most of our stuff just sits there unused," remarked Caspar, a tourist from New Zealand who used Rentalic to rent snow chains this past winter. Rentalic's mantra of "Rent - Share – Be Green" promotes reuse through person-to-person renting and has been praised by environmentalists, customers like Caspar, and the media alike.
Most recently, Emmy-Award winning tech analyst, Katie Linendoll, described Rentalic as "a trend that is on the up and up." on NBC's Nate Berkus show.
Additional information on Rentalic's "Share It Forward" Movement and the 10/10/10 Global Work Party at Hayes Valley Farm can be found at http://blog.rentalic.com
About Rentalic:
Rentalic, Inc. is a privately held company based in San Mateo, California. The company provides an innovative web platform that enables person-to-person renting among friends, family, and communities. Rental listings currently encompass 140 cities across 35 states and are quickly expanding. Popular rental items include costumes, bikes, text books, power generators, mini-refrigerators, audio/video equipment, and more. Rentalic's mission is to help people save money, make money, and save the environment by encouraging reuse and sharing through person-to-person renting. The company's vision is to ultimately use its business model to build economically and environmentally sustainable communities. To learn more about Rentalic, visit http://www.rentalic.com.
About 350.org:
350.org is an international environmental organization, headed by author Bill McKibben, with the goal of building a global grassroots movement to raise awareness of man-made climate change, to confront climate change denial, and to cut emissions of carbon dioxide, in order to slow the rate of global warming. 350.org chose its name based on the research of NASA scientist James E. Hansen, who stated in his 2007 paper that 350 parts-per-million (ppm) of CO2 in the atmosphere is a safe upper limit to avoid a climate tipping point.
About Hayes-Valley Farm:
San Francisco city-owned lots between streets Fell and Oak & Laguna and Octavia, where off-ramps for Highway 101 were previously situated, are being transformed into an urban farm by Hayes Valley Farm — an education and research project with a focus on urban agriculture. The project is founded on an interim use agreement between Hayes Valley Farm and the City's Office of Economic and Workforce Development until the City moves forward with other development plans for the site.
###