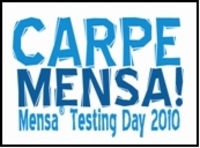 Mensa gives people an opportunity to network with like-minded individuals and meet people from all walks of life by providing different forums and social events in each Mensa chapter
Arlington, Texas (Vocus) October 7, 2010
"Seize the day" and take the Mensa Admission Test. Mensa Testing Day is Oct. 16, 2010 and everyone is invited to Carpe Mensa and learn about the organization. Over 200 test sessions will be given across the country, and anyone who scores in the top two percent on the admission test will be invited to join the high IQ society.
The test fee is $40, and a photo ID is required. Test takers should arrive 30 minutes prior for registration. The exam is open to anyone ages 14 and older; parental permission is required for anyone age 14 to 17 years old. Some chapters will also be testing at other times in October. For more information about Mensa Testing Day in your area, visit http://www.us.mensa.org/MTD.
"Mensa gives people an opportunity to network with like-minded individuals and meet people from all walks of life by providing different forums and social events in each Mensa chapter," says Elissa Rudolph, Chair of American Mensa. "If a person qualifies for membership, he or she can participate in interesting, delightful, and fun events, share through scholarship and community service, and interact with individuals who have some of the same special interests that they do. Mensa Testing Day gives potential members the chance to experience what American Mensa is all about."
American Mensa is the organization open to anyone who scores in the top two percent on an accepted, standardized intelligence test. The organization has more than 57,000 members in the United States and more than 110,000 members around the world. Members of Mensa attend local and national events, join special interest groups such as astronomy, games, and philosophy, and help out in their communities through various projects. For more information about Mensa, or to apply for membership, visit http://www.us.mensa.org or call (800) 66-MENSA.
Monica Hatley
817-607-0060 ext. 5542
monicah(at)americanmensa(dot)org
###