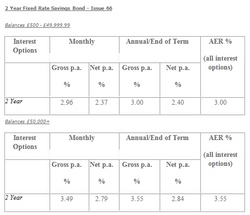 (PRWEB) October 9, 2010
At a time when savers are looking to improve their returns, Barclays today launches a competitive two year fixed rate bond paying up to 3.55 per cent (an increase of 0.55 percentage points).
Barclays is increasing the rate by 0.55 percentage points on the top tier of the two year bond, paying 3.55 per cent gross p.a/AER on balances over £50,000 – the maximum investment is £1,000,000. This will make it the best headline rate on the high street. Barclays will maintain the 3.00 per cent p.a/AER on balances below £50,000 – the minimum investment is just £500.
Andy Gray, Barclays Head of Savings said: "Fixed rate bonds have been immensely popular with customers over the last two years as they offer a guaranteed rate of interest in the low rate environment. With some economists forecasting base rate to remain at 0.50 per cent well into next year, increasing the rate today on the two year bond gives consumers a really competitive rate on the high street.
"The two year bond is aimed at customers looking for a guaranteed return who can lock their savings away for two years. From just £500 it is accessible to almost everyone, while those customers with higher balances to save will be rewarded with even better rates of interest, paying seven times more than base rate."
Customers taking out the fixed rate bond with Barclays can choose whether they want a regular monthly or annual income or grow their capital. New and existing customers can open their fixed rate bond instantly through a branch. In addition Barclays current account customers using online banking can apply online http://www.barclays.co.uk/savings or by telephone banking 0845 301 0333.
Barclays continues to offer the one year fixed rate bond, paying 2.00 per cent p.a/AER with a minimum investment of just £500 and 2.50 per cent on balances of £50,000 or more.
Notes to Editors:
The rates quoted are gross p.a. / AER rate is the end of term interest option.
Minimum deposit £500, maximum deposit £1,000,000
Monthly, annual and end of term interest payment options are available
UK residents aged eighteen years or over
No further deposits are permitted
No withdrawals are permitted prior to maturity
A Barclays TV advertising campaign supporting the fixed rate bonds is currently running, with press advertisements commencing on 2nd October.
Barclays is a major global financial services provider engaged in retail banking, credit cards, business banking, corporate and investment banking (investments product finder) and wealth management with an extensive international presence in Europe, the Americas, Africa and Asia. With over 300 years of history and expertise in banking, Barclays operates in over 50 countries and employs nearly 147,000 people. Barclays moves, lends, invests and protects money and provides text banking,life insurance and other services for 48 million customers and clients worldwide.
###