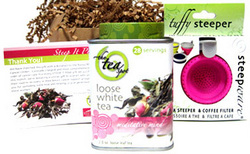 Boulder, CO (Vocus) October 12, 2010
The Tea Spot is helping to raise awareness for breast cancer this month by making donations to Boulder Community Hospital (BCH). Throughout the month of October, The Tea Spot's "Steep it Pink" gift sets will spawn matching contributions by The Tea Spot to Boulder Community Hospital's breast cancer support groups. For every "Steep it Pink" gift set purchased during Breast Cancer Awareness month, The Tea Spot is matching that donation to women who are on their road to recovery.
The "Steep it Pink" Steepware® and loose leaf tea gift box includes a large tin of Meditative Mind loose leaf tea, a hot pink Tuffy Tea Steeper, and a gift card noting The Tea Spot's matching donation. "Steep it Pink" has a retail value of $18.94, bringing the combined value with the matching donation to $37.88. The Tea Spot is offering this special Breast Cancer Awareness tea gift set for $18.00 through the end of October, 2010.
Meditative Mind is The Tea Spot's best selling loose leaf tea. It is one of The Tea Spot's handcrafted signature blends, made with pure white tea, rosebuds and jasmine pearls. The Tuffy Tea Steeper is The Tea Spot's modern design silicone tea infuser intended for travel, easy storage, and making loose tea on-the-go. This durable, foldable, reusable, loose leaf tea infuser is compatible with most mugs and many teapots. The lid also doubles as a saucer for the brewing basket when your leaf tea is done steeping.
The Tea Spot is transforming the premium tea industry by making loose leaf tea accessible to modern lifestyles. A WBENC certified woman-owned and operated business, the company develops, produces, markets and distributes proprietary sustainable teaware designs and leaf teas that facilitate the ease of daily consumption. The Tea Spot's vision statement is simple and powerful: tea in its freshest form renders incredible flavor, unmatched health benefits, and is eco-friendly. In addition, the company has a strong social mission, donating 10% of revenues in-kind to cancer & community wellness initiatives.
Boulder Community Hospital is fully committed to providing the most comprehensive, multidisciplinary breast cancer program in Colorado. Breast cancer is the most common form of cancer afflicting Boulder County women. The Tea Spot's CEO, Maria Uspenski, unveiled the "Steep it Pink" matching tea gift donations as a component of the company's 10% for Cancer Wellness initiatives that will benefit BCH this month, alongside The Tea Spot's artist sponsorship in the "Boulder Busts Cancer" event.
# # #