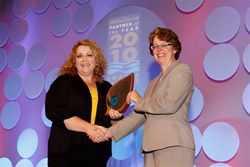 "These partners contributed significantly to our efforts to make WaterSense labeled products a household fixture in 2009," said Peter S. Silva, EPA's Assistant Administrator for Water.
Winter Springs, FL (PRWEB) October 12, 2010
Each year, the U.S. Environmental Protection Agency (EPA) recognizes the best partners in four categories at increasing water efficiency and awareness of the WaterSense label across the country. This year, EPA recognized Judy Benson of Clear Water Products & Services, Inc. located in Winter Springs, Florida as the 2010 Irrigation Partner of the Year in Las Vegas, Nevada on October 6. Benson was selected from the responding applicants and over 1000 irrigation partners within the WaterSense program.
Mrs. Benson founded Clear Water PSI (http://www.clearwaterpsi.com) in 1997 and has provided central Florida residents and businesses with relief to high water bills and inefficient irrigation systems. In an area where water appears to be plentiful, many areas of Florida are impacted by reductions in groundwater and increased water quality issues. Benson has spent the past 13 years working towards positive change to these situations - one property at a time.
Utilizing a passion for the environment and over 25 years of experience in the water industry, Benson has dedicated countless hours of effort in promoting efficient use of water for irrigation. Her consulting and contracting firm has completed over 5,000 irrigation evaluations and renovations to improve irrigation coverage and overall health of landscapes. Clear Water PSI implements the newest technology available in the green industry including remote monitoring and soil moisture sensors or ET/Weather-based controls for water management.
"New technologies are available for controlling irrigation water consumption, but the true test of a good consultant or contractor is in identifying the cause of over watering." Benson states. "Simply installing a new controller rarely solves water use issues and can actually create damage to expensive landscapes. We achieve results unsurpassed by others, providing reduced water bills and virtually eliminating harmful run off of fertilizers and other chemicals which damage our lakes and rivers. Our clients receive return on their investment while protecting the local environment."
Benson has achieved multiple licensing and certifications including irrigation designer, contractor and irrigation and landscape auditor recognized by the EPA's WaterSense program (http://www.epa.gov/WaterSense/services/landscape_irrigation.html) and utilizes this knowledge in designs for new construction and mature system renovations. Additionally, Benson is a licensed water treatment professional and is knowledgeable in local water quality issues. Clear Water PSI staff hold license as State of Florida Water Well Contractor and certifications with American Rainwater Catchment System Association (ARCSA).
Previous recognition in June 2010, Benson was the recipient of St. Johns River Water Management District's Bob Owens Award for volunteer work with the Florida Water Star program (http://floridaswater.com/floridawaterstar/index.html) and is an active member of the district's Water Conservation Subgroup Committee. Benson and her staff received Orange County Utilities' 2010 B.E.S.T. Partner award (Businesses for an Environmentally Sustainable Tomorrow) earlier this year.
Mrs. Benson is a WaterSense inspector providing services throughout the state of Florida (http://www.watersenseflorida.org/inspectors/index.htm) and maintains three irrigation certifications required for new home certification within the burgeoning volunteer green build program.
###