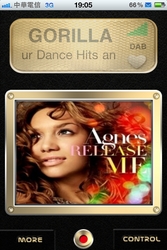 Hsinchu, Taiwan (PRWEB) October 12, 2010
KeyStone Semiconductor Corp. (KeyStone), a leading fabless semiconductor developer of advanced digital radio technologies announced today the availability of its new single-chip receiver IC, Tsunami 2 (KSW8650). KSW8650 is the first low-power and low-cost digital radio turn-key solution to support FM/DAB/DAB+/DMB-R and color slide show allowing DAB terminals to receive real-time radio, weather forecast, traffic data, multimedia, mobile TV, etc. New applications such as iPhone docking stations employing KSW8650 to display DAB/DAB+ live slide show on iPhone/iPod Touch will be available at October 2010 Hong Kong Electronics Fair (HKEF). Picture below depicts DAB/DAB+ color slide show reception on an iPhone 4 (courtesy of Australia Gorilla).
Like its predecessors, KSW8650 is implemented in standard CMOS process and has fully integrated the entire FM/DAB/DAB+/DMB-R receiver systems including triple-band Radio Frequency (RF) receiver, channel demodulator, Digital Signal Processor (DSP), advanced AAC+ audio decoder, stereo DAC, battery detector, memory cell, etc. onto a single chip. KSW8650 leaves no costly external components such as VCXO, SDRAM, Flash Memory, MCU, etc., on the module, which significantly reduces the form-factor while lowering the overall solution cost.
While working in a slave mode, KeyStone's single-chips have been selected by Magic Systech's internet radio platforms (MSE005 iRadio Module) to offer low-cost internet radio with FM/DAB/DAB+ turn-key solutions. Production-ready models are available at the HKEF.
In addition, KSW8650 is best fit for small panel devices such as Personal Multimedia Players (PMPs), Personal Navigation Devices (PNDs), Digital Photo Frames (DPFs), in-vehicle audio systems, eReaders, Set Top Boxes (STBs), TVs, cellular phones, etc. where consumers can enjoy DAB/DAB+ digital radio, color slide show, as well as DMB video.
KSW8650 is also the first and only FM/DAB/DAB+/DMB-R receiver IC that passes stringent Electromagnetic Compatibility (EMC) BS EN 55022: 2006 and BS EN 55013: 2001 tests to allow OEMs directly connecting coaxial cable to KSW8650 modules. It permits KSW8650 modules to share the same source antenna with TV in a set top box and to share the same FM antenna in a vehicle to reduce cost and installation complexity.
Housed in a compact 0.8 cm x 1.1 cm BGA package and measured as small as 2.0 cm x 2.0 cm for slave-mode FM/DAB/DAB+/DMB-R operations, KSW8650 module is the only turn-key solution to offer above features in a most compact form factor for portable devices.
Pricing and Availability
Tsunami 2 module with KSW8650 (FM/DAB/DAB+/DMB-R) is priced at USD 14.0 for 1 k quantity. Tsunami 2 Demo Platform is available for USD $150.0. For additional product information and to purchase samples and development tools, please contact sales(at)keystonesemi(dot)com.
About KeyStone
KeyStone Semiconductor Corp. is a technical innovator and leader in wireless digital radio semiconductor. KeyStone products enable the delivery of the enriched analog and digital multimedia contents to home and mobile environments. We provide the industry with low-cost system-on-a-chip and turn-key solutions to manufacturers of analog and digital broadcasting access products and portable devices.
KeyStone is headquartered in the Science-Based Industrial Park, Taiwan, and has offices and facilities in North America and in China. KeyStone can be contacted at +886.3.666.2756 or at contact(at)keystonesemi(dot)com.
Press Inquiries:
KeyStone Semiconductor Corp.
Office: +886-3-666-2756
Fax: +886-3-666-2758
Email: Contact(at)KeyStoneSemi(dot)com
Web: http://www.KeyStoneSemi.com
# # #