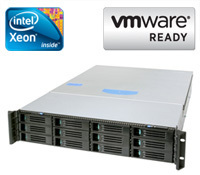 Combined with the new Intel® Xeon® processors and VMware software, Pogo Linux Iris VT delivers a certified, high-quality virtualization platform for small- & mid-sized businesses
Redmond, WA (PRWEB) October 12, 2010
Pogo Linux, today unveiled the all-new Iris VT servers, which combine VMware®'s industry-leading virtualization software and Intel® Xeon® processor technology on high-quality Pogo Linux hardware, to deliver a VMware-certified Intel ESAA solution. These systems truly enhance Pogo Linux's data center offerings to small- and mid-sized businesses, who can now choose between a pre-validated VMware server platform or a standard solution, based on project needs. Now companies that virtualize line-of-business applications in a virtual data center can protect their IT investment with a fully-supported VMware server platform – instead of a non-certified solution – to experience increased software integrity and performance.
Intel® ESAA Program
The Iris VT servers are a part of the Intel Enabled Server Acceleration Alliance (Intel ESAA), a collaborative program in which Intel-based servers are validated and certified with independent hardware and software applications to provide an interoperable, supported solution stack. Together with Intel, Pogo Linux is able to combine Intel Xeon processor technology and VMware ESXi and VMware VSphere™ software to offer a complete virtualization solution.
Pogo Linux VMware Certified Iris VT Servers
An addition to the Pogo Linux Iris family of servers launched in 2005, this premium line of Iris VT products includes five versatile 1U and 2U rackmount server chassis models. Built on the Intel® Xeon® Processor 5600 Series, these systems are available with multi-processor system configurations up to 6-cores, making them some of the most advanced Intel®-based solutions on the market.
The Iris VT servers incorporate LSI MegaRAID 6G/s networking, SSD, SAS and SATA hard drive options, and memory configurations up to 144GB to confidently run a large virtualized infrastructure from a single machine. Certified to work with VMware® ESXi or VMware® VSphere™, the Iris VT server is ideal for data center virtualization of business-critical software, such as those used for accounting or supply-chain applications.
"The demonstrated growth of server virtualization in the data center, specifically around cloud-based applications, requires a solution that delivers fast performance and a certified platform," said Erik Logan, President Pogo Linux. "The new Iris VT servers do just that, and Pogo Linux is proud to offer this solution in our continued commitment to our SMB customers. Being part of the Intel ESAA program made choosing the right components easy. As a result of their pre-tested and validated software and hardware selection process, our customers gain even greater confidence knowing that their VMware software and Pogo Linux hardware will seamlessly work together to deliver a great return on their investment."
"We are pleased to have a company like Pogo Linux, with deep integration experience serving the Linux and open source communities, utilize Intel® ESAA to deliver validated solutions based on Intel® Server Boards", said Ned Thanhouser, Director, Intel® Enabled Server Acceleration Alliance. "Their Iris VT solution, combined with the new Intel® Xeon® processors and VMware software, delivers a certified, high-quality virtualization platform for small- and mid-sized businesses".
Availability & Pricing
Starting at a price well within reach of small- and mid-sized businesses, a base server configuration for an Iris VT server begins at $2,373. These systems are fully certified to work with VMware® ESX and VMware® VSphere™ and are available for customer deployment immediately. New customers may learn more about this product – including configure a system online with exact pricing – at http://www.pogolinux.com/products/intel_virtualization_servers To learn more about Pogo Linux small business data center solutions, please visit http://www.pogolinux.com/datacenter.
For a knowledgeable discussion about Iris VT servers (or any other Pogo Linux product), please visit Pogo Linux at Booth #501 in the Cloud Computing Zone at INTEROP on October 20-21, 2010 at the Javitz Convention Center in New York, NY.
About Pogo Linux
Founded in 1999, Pogo Linux, Inc. is a workstation, server, and storage systems integrator based in Seattle, Washington. With in-house technical expertise and a multi-OS focus, Pogo Linux offers a wide range of systems for every IT project or budget. From a single database server to a complete datacenter deployment, Pogo Linux is dedicated to providing affordable, reliable, and energy-efficient Linux, Solaris, and Windows-based systems for organizations of all sizes. In addition, each system includes the type of world-class Linux customization and support you would expect from a company that's served the Linux and open source communities for more than a decade.
For more information about Pogo Linux, please visit http://www.pogolinux.com or call 1 (888) 828-POGO (7646).
Media Contacts
Rawee Kambhiranond, (888) 828-7646, rawee(dot)k(at)pogolinux(dot)com
###