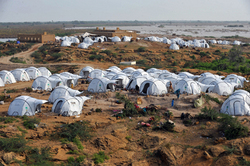 Hundreds of families are living in improvised shelters on their rooftops after floods, mudslides and hurricane damage caused havoc in southern Mexico
Lakewood Ranch, FL (Vocus) October 11, 2010
ShelterBox, the international disaster relief charity, is stepping up delivery of emergency shelter for thousands displaced by natural disasters in Pakistan and Mexico.
In Pakistan, nearly a month of rain in August triggered floods that killed thousands; wiped out villages, infrastructure and farmland; and left millions of people homeless.
"Logistical pathways into Pakistan have now cleared and emergency shelter for a further 56,000 people will be distributed in the coming weeks," said Veronica Brandon Miller, executive director for ShelterBox USA, the charity's U.S. affiliate based in Florida. "This means ShelterBox has committed emergency shelter for up to 147,590 people in Pakistan, one of the largest commitments in ShelterBox history."
In Mexico, ShelterBox is sending emergency shelter and lifesaving supplies for up to 4,000 people to help families in desperate need.
"Hundreds of families are living in improvised shelters on their rooftops after floods, mudslides and hurricane damage caused havoc in southern Mexico," Miller said. ShelterBox Response Team members have been working in the Veracruz and Villahermosa areas to assess the most critical needs and will next investigate the state of Tabasco.
Since 2000, the international disaster relief organization has provided shelter, warmth and dignity following more than 140 disasters in more than 70 countries. ShelterBox instantly responds to earthquake, volcano, flood, hurricane, cyclone, tsunami or conflict by delivering boxes of aid.
Prior to the effort in Pakistan, the organization's largest distribution of aid was in Haiti where ShelterBox provided emergency shelter for more than 250,000 residents displaced by the January 2010 earthquake. ShelterBox is currently delivering life-saving aid in Pakistan, Niger, Guatemala and Mexico.
The iconic green ShelterBox contains a tent to provide shelter for up to 10 family members, tool kit, cook stove, water purification equipment, children's activities, and other essential equipment tailored to the climate and conditions of the destination. Highly trained ShelterBox Response Teams distribute boxes on the ground, working closely with local organizations, international aid agencies and Rotary clubs worldwide.
Individual tax-deductible donations to ShelterBox USA can be made at http://www.shelterboxusa.org or by mailing a check to 8374 Market St. #203, Lakewood Ranch, FL 34202. For information or to make a contribution by phone, please call 941-907-6036.
# # #