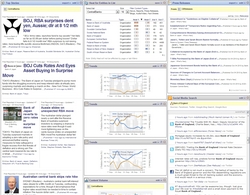 Silobreaker Premium offers a new option for companies wanting to combine content aggregation with sense-making tools and graphics without installing technology on site.
Washington, DC (PRWEB) October 12, 2010
Silobreaker, info.silobreaker.com, announced today at the ISS World Americas intelligence conference in Washington DC, the official release of Silobreaker Premium, the new subscription-based online service for corporate, financial, and government agency customers looking for more effective ways to monitor and analyze the news and social media.
Before today, most companies and agencies have had two basic options: free online news search or paid services from publishers, news aggregators, news-monitoring firms or consultants. Neither option provides the critical analytical tools to deal effectively with the avalanche of news content available today. Silobreaker Premium offers a new option for companies wanting to combine content aggregation with sense-making tools and graphics without installing technology on site.
"There is a lot of information and aggregation services on the market today, and there are also many enterprise software products for search, text-mining and other types of content analysis", says Silobreaker CEO Kristofer Mansson, "but the integration effort of putting together these products and services into effective solutions has proven to be difficult and costly for the customer in terms of time, money and maintenance. Silobreaker Premium offers the valuable combination of content aggregation together with advanced analytics, and as a hosted service can be "rolled out" within an organization with minimal effort and at much reduced costs."
Available as SaaS (Software as a Service) in a single intuitive and secure user interface, Silobreaker Premium users can define monitoring targets, trigger content aggregation, perform analyses, and display results in rich graphics, customized dashboards, e-mail alerts or by auto-generated reports. Users are able to set up watch lists and collaborate with colleagues; monitor content from old, new and social media; upload internal content for side-by-side analysis with the outside world; track big movers in the information flow by Heat, Networks, Trends and other analytical tools; and save and export findings straight into 3rd party applications. To see a demo, please visit http://info.silobreaker.com/silobreaker-premium/view-a-demo-silobreaker-premium.
Silobreaker Premium is priced with a single monthly flat fee for up to 200 users to allow and encourage collaboration and widespread use within organizations. The fee remains the same regardless of the number of queries, dashboards, watch lists, alerts, or reports. Silobreaker Premium is also available for individual users or smaller user groups.
About Silobreaker
Founded in 2005, Silobreaker is an internet and technology company who offers products and services that aggregate, analyze, contextualize and bring meaning to the ever-increasing amount of digital information. Providing "Insight as a Service, Silobreaker's products help many private, corporate, academic, financial and government users around the world. Silobreaker Premium is the most powerful intelligence and media-monitoring product online; the Silobreaker Enterprise Software Suite offers a fully customizable solution for those who require installations behind their own firewalls; and Silobreaker.com is the award-winning free search service for news and social media.
For more information: http://info.silobreaker.com
###