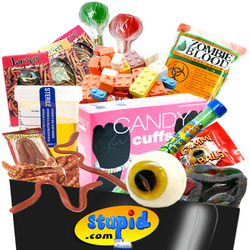 It's Zombie Blood, Candy Barf, and Squishy Gummy Eyeballs that everyone always really wants!
Los Angeles, CA (PRWEB) October 13, 2010
Looking to really freak out Trick-Or-Treaters this Halloween? Stock up on Zombie Blood, Gummy Hearts, and Candy Barf. These are just a few of the freaky and free Halloween Candies that make up Stupid.com's $50 Free Freaky Halloween Candy Bag Giveaway.
All through October, Stupid.com will be selecting one lucky winner per week to received a candy bag full of the craziest, most insane Stupid.com treats, worth up to $50.
The candy bags, filled with Stupid.com's brand new inventory of Halloween Candy, range from spooky treats like Marshmallow Mummies, to gross gags like Candy Warts.
The contest, which can be found via Stupid.com's Facebook page, requires participants to select their favorite Stupid.com Halloween costume, from Lady Gaga costumes to giant Hot Dog costumes, and share with a friend for automatic entry.
Quickly becoming fan favorites are the new, weird candies, according to Justin Scott, webmaster at Stupid.com
"Forget the old favorites," says Scott. "It's Zombie Blood, Candy Barf, and Squishy Gummy Eyeballs that people really want!"
Zombie Blood – which consists of a pouch of gooey lime-flavored liquid – has quickly become a hot seller this October. Also on the list of strange but popular Halloween candies are Candy Legos, which are small blocks you can actually build with and eat.
Grave Grabber Gummy Hands, available in Skeletal strawberry, Zombie blue raspberry, and Witchy green apple, are also a good bet for freaking out Trick-Or-Treaters.
For those looking to deliver a real fright, Urine Sample Candy – a small container of lemon goo – is a great buy, as well as Synthetic Blood and Hypodermic Needle Pops.
If that's not enough, Stupid.com has also partnered with geeky gift blog NerdApproved.com for two additional giveaways: One contest features a $75 bag full of super weird Stupid.com Halloween Candy, and another features the winner's choice of any Halloween costume from Stupid.com. Details for both contests can be found via NerdApproved's blog.
About Stupid.com – Founded in 1998, Stupid.com has been spreading laughs one gift at a time for over 12 years now. For all the craziest, stupidest, and most hilarious Halloween Costumes and Stocking Stuffers, visit Stupid.com today.
###