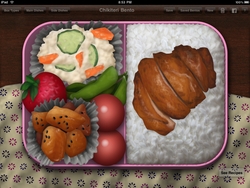 I think we've made it really fun and easy to quickly explore different bento lunch ideas.
San Francisco, CA (PRWEB) October 12, 2010
Indie software developer Greg Cheong today announced that bento box planning and recipe application, Bento Master, is now available on the App Store.
Bento Master allows you to select from a variety of authentic Japanese dishes including rice-based main dishes and numerous meat, egg, veggie and fruit sides then visually arrange them together in a virtual bento box. Once satisfied with your creation you can tap a button to view all the recipes listed conveniently together. Favorite bento lunch designs can be saved to make again later. There is also a feature to share pictures of bento designs with friends on Facebook.
Bento Master is a great tool for trying out and visualizing new bento lunch ideas before starting to cook. It also eliminates the need to search though pages and pages of recipes in order to make a complete meal.
Bento Master includes helpful tips on designing and packing bento boxes, recommended tools and important food safety information. It supports both English and Japanese languages.
Shortly after its release, Bento Master made it into the top ten list for top grossing iPad apps in the Lifestyle category on the Japan App Store. As of this writing, it is also currently listed in New & Noteworthy iPad apps in the Lifestyle category on the U.S. and Germany App Stores.
###