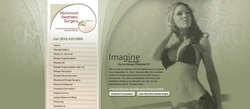 Midlothian, VA (Vocus) October 13, 2010
According to figures from the National Cancer Institute (NCI) released in 2010, 207,090 new cases of breast cancer will be diagnosed this year in the United States. However, NCI also estimates that as of January 1, 2007, there were 2,591,855 women alive in the U. S. today who had a history of breast cancer, demonstrating that while occurrence of this disease may be increasing, medically-advanced treatment methods are improving survival rates as well. In further support for the fight against breast cancer, this October is the 26th annual celebration of National Breast Cancer Awareness Month (NBCAM). Dr. Neil Zemmel, a board-certified plastic surgeon in Richmond, is promoting the NBCAM organization's message of awareness, education, and empowerment to support those in his community and around the nation that have been affected by the disease, as well as people who may be at risk for developing breast cancer, and those that have undergone some form of breast cancer reconstruction in Richmond.
Certified by the American Board of Plastic and Reconstructive Surgeons, Dr. Zemmel specializes in a number of procedures, including cosmetic enhancement with breast augmentation in Richmond. However, this October he is focusing on promoting breast cancer awareness in conjunction with NBCAM. Dr. Zemmel says new techniques have been developed in recent years that allow surgeons like him to preserve more of the original skin and breast tissue, thus allowing him to provide a cosmetically-pleasing, natural-looking breast reconstruction in Richmond, Virginia.
In the last 30 years, Dr. Zemmel says that breast reconstruction procedures have advanced dramatically, thanks in large part to the promotion of breast cancer awareness. Dr. Zemmel says a number of surgeons work in collaboration today to provide patients with the best possible outcome. Whether performing a single lumpectomy, or a combination of extremely advanced procedures, he says the incorporation of techniques like microsurgery and the use of breast implants in Richmond enhance the overall success of breast reconstruction as he strives to restore each patient's confidence.
The efforts of the NBCAM organization have played a vital role in the improvement of breast reconstruction procedures through increased awareness. Both the organization and Dr. Zemmel stress that the individual is the first line of defense when it comes to diagnosing and treating breast cancer. Awareness begins with knowing how breast cancer affects family history and how it affects a person's race and ethnicity, further supported by self-examinations and routine mammograms. Furthermore, Dr. Zemmel and the NBCAM say leading a healthy lifestyle, which includes maintaining the appropriate weight while limiting alcohol consumption, will empower women throughout the process of reducing their risk of breast cancer.
As the statistics from the NCI demonstrate, without the development of a clear cure for the disease, 13% of the population will be directly affected by breast cancer. However, with continued research and further support from NBCAM, treatment options will continue to improve as survival rates increase. Dr. Zemmel says he is proud to support breast cancer awareness and his breast reconstruction patients this October at his Richmond Aesthetic Surgery practice.
About Dr. Zemmel
Dr. Neil J. Zemmel earned his medical degree from the University of Virginia. He then attended the plastic surgery training program at the Virginia Commonwealth University Medical Center, where he completed both his general and plastic surgery residencies. Dr. Zemmel served as Chief Resident of Plastic Surgery in his final year of residency, and then joined the faculty at the University, where he participated in resident teaching and academic research. He has participated in medical missions with Operation Kids to perform reconstructive procedures for children in need of cleft lip, cleft palate, and burn reconstruction procedures.
Dr. Zemmel's Richmond Aesthetic Surgery practice is located at 14051 St. Francis Blvd., Ste. 2209 in Modlothian, VA 23114, and can be reached at (804) 435-5866 or http://www.vabreastsurgery.com/
###