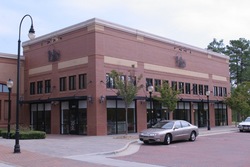 "At Blo, we're all about creating beautiful hair, and our workspace reflects the energy and seriousness with which we take our craft," said Owner Bryan Nunes.
Raleigh, NC (PRWEB) October 20, 2010
One of the Triangle's most highly decorated salons received its very own special makeover. Blo, the award-winning salon in Brier Creek Commons, has expanded from 2,100 to nearly 5,000 square feet. Blo's newly appointed space features a second styling gallery, a second color bar, and introduces a unique waxing room and two makeup styling galleries to showcase Mirabella Makeup exclusively in the region.
Blo is now the largest hair salon in North Carolina. Owner Bryan Nunes is adamant about retaining the salon's "pockets of intimacy," where guests receive the latest style trends in hair and makeup to establish their own signature looks.
"Our design team is dedicated to maintaining the sense of connection that guests feel with their stylists," said Nunes. "Blo is a distinctive environment, one where some of the state's most highly trained designers support each other in the creative process to provide an exceptional salon experience."
Each designer completes extensive in-salon training through Blo's "Blossom" program as well as advanced education at New York City's Redken Exchange. Blo is home to nine Redken-certified haircolorists, the most in North Carolina.
"We're all about creating beautiful hair," said Nunes. "Which means both our workspace and the attention guest receive reflect the positive energy and seriousness with which we take our craft."
Having the area's most unique salon environment open every day allows Blo to accommodate large wedding parties, and the hectic schedules of busy professionals and homemakers. Blo features 96 windows, providing unparalleled natural lighting that ensures designers can work to achieve perfect hair color balance.
The addition of a second color bar also enables Blo to showcase the latest color techniques. Nunes said his team recently launched a complimentary service for first-time color customers.
"This special pre- and post-treatment helps prepare guests' hair for the color service, while ensuring color longevity," he said.
Blo designers use Redken's latest Cover Fusion product to assist in penetrating color-resistant gray and ensure optimum color absorption within the hair shafts. Nunes also expects the added makeup services to be popular among guests.
Reviewers call Mirabella "a miracle." Some have suggested that it has "seemingly cracked the code for providing the perfect mineral foundation formula for every skin tone and type," according to MegsMakeup.com, a nationally recognized weblog providing unbiased beauty products reviews to 10,000 daily subscribers.
"Women can recreate the 'Oh, Wow!' feeling at home that they get when they look in the mirror after a salon makeup experience," said the editorial team at The Makeup Divas weblog.
Kim Crow, style writer at the Cleveland Plain Dealer, said, "Look to the Mirabella line for classic colors in beautiful, long-lasting formulations that are as easy to apply as they are to wear."
Thanks to Blo, access to Mirabella Makeup is no longer a challenge for Triangle residents.
Blo's reputation stretches nationally. The salon is a hot destination for photo shoots, hosting features in international beauty publications: Qvest, Modern Salon, Salon Today, American Salon and Passion Magazine. Blo also was recently named one of America's top 100 salons by ELLE Magazine.
Located in Brier Creek Commons, conveniently equidistant to Raleigh and Durham, N.C., Blo is home to "a lot of hot hair." This is thanks to a talented design team that avoids the pretension typically associated with upscale salons. Blo is one of three U.S. salons to receive the industry's highest honor of a 2008 Global Salon Business Award.
To complement industry honors, the salon was recently named by the Triangle Business Journal as one of the "Best Places to Work." Blo also is home to the Triangle's one and only "24-Hour Cut-A-Thon" each February, donating more than $33,000 to area charities. Grab your smart phone and book an appointment at http://www.justblo.com, or call (919) 484-8600.
# # #