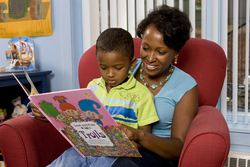 Fulltime instruction is provided for patients and siblings in grades K-12, allowing children to maintain academic performance while remaining together as a family.
Oak Brook, IL (Vocus) October 13, 2010
From awarding $40 million in scholarships to exemplary students, to helping families fulfill the academic development of their ill children and their siblings; the Charity knows education benefits both the children and society. As part of its vision of changing a child's life, RMHC continues to play an active role in making success possible for future leaders, while helping families preserve a sense of normalcy when they are away from home while their sick or injured child receives treatment.
Experts agree education is one of the most powerful tools for human development. But with education costs spiraling ever higher, a college education is sometimes beyond the financial reach of many outstanding students. A partnership between RMHC and its local Chapters opens the door to higher education for graduating high school seniors who face limited access to educational and career opportunities. The RMHC US Scholarship Program provides financial aid for students who are excellent role models in their communities and have the initiative to fulfill their educational aspirations. The Charity gives students the option to apply to one of four scholarship programs: RMHC® Scholars, RMHC®/Asia, RMHC®/African-American Future Achievers, and RMHC®/HACER®.
Since 1985, the Charity has identified and invested in future leaders awarding scholarships to more than 20,000 students, such as Luis Durán, 2009 RMHC®/HACER® scholarship recipient. "My dream of becoming an architect and making a difference in my community, it's becoming a reality… and it's thanks to a $100,000 RMHC/HACER scholarship," said Durán. Durán, a sophomore at Arizona State University pursuing a degree in architecture, gives back to his community by volunteering at his church assisting with the breakfast for homeless every Saturday morning. He also volunteers at the Tumbleweed program, an organization that helps homeless high school students with school and gives them a home. "Our education not only helps us advance in our careers, but it emphasizes bettering our communities and being an example for future generations," said Durán.
The deadline for the 2010/2011 RMHC Scholarship program year is January 28, 2011. Graduating high school seniors may apply online beginning November 12, 2010. Additional information and applications can be downloaded at http://rmhc.org/what-we-do/rmhc-u-s-scholarships/.
Also as part of comprehensive resources offered to families, local RMHC Chapters support educational, learning, reading and home school programs in the U.S, and internationally, in Panamá, Costa Rica, Guatemala, Turkey, Philippines, Canada and Australia, benefiting more than 800,000 children every year. Home school programs, like that offered by Ronald McDonald House Charities of the Upper Midwest, allow families, who have an extended stay at a Ronald McDonald House while their child is receiving medical treatments, to support their child's academic development. This is an alternative school, licensed through the Minneapolis Public Schools District and staffed by the Chapter, which helps children keep up with their studies even though they are away from home.
"Fulltime instruction is provided for patients and siblings in grades K-12, allowing children to maintain academic performance while remaining together as a family," said Meg Katzman, executive director, RMHC of the Upper Midwest. "Together with about 12 students, they not only avoid falling behind in school but actually receive more individualized instruction." Classes follow the normal school year, and are scheduled from 9:00 a.m. to 3:00 p.m. In addition to following the state curriculum, these students also have access to music therapy, art therapy and movement classes. "We tried to put to together our own plan, getting an apartment, home-schooling the girls," says Mary Krupski, a parent who stayed at the Ronald McDonald House of Upper Midwest. "Then we visited the Ronald McDonald House and it was clear that they knew so much more about the path we were about to take. They knew what we needed before we needed it."
Education is a powerful and fundamental factor for human growth and economic sustainability. If given the opportunity to learn, people are more empowered to better themselves, their families and their communities. Ronald McDonald House Charities strives to be part of the change and part of the solution in improving the lives of children and their families by providing stability and vital resources, like education, so they can keep their child healthy and happy.
About Ronald McDonald House Charities Ronald McDonald House Charities (RMHC), a non-profit, 501 (c) (3) corporation, creates, finds and supports programs that directly improve the health and well being of children. Through its global network of local Chapters in 52 countries and regions, its three core programs, the Ronald McDonald House®, Ronald McDonald Family Room® and Ronald McDonald Care Mobile®, and millions of dollars in grants to support children's programs worldwide, RMHC provides stability and resources to families so they can get and keep their children healthy and happy. All RMHC-supported programs provide a bridge to quality health care and give children and families the time they need together to heal faster and cope better. For more information, http://www.rmhc.org/or follow us on Twitter (@RMHC) and Facebook (Facebook.com/RMHC Global).
###