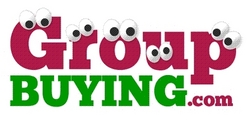 Group Buying is taking social networking and the internet to the next level!
New York, NY (PRWEB) October 14, 2010
Auction bidders will be in fantastic company; Groupon.com which was founded in 2008 by Wharton alumni Andrew Mason has secured $170 million in US in venture capital. The two year old startup is already valued at some $1.35 Billion. According to a recent article Mason explained that Groupon turns down seven businesses wanting to offer a deal for every one it accepts. This demonstrates that the market is just heating up and it is certainly ripe for more competition. What better name than GroupBuying.com?
Groupon's stats:

700 incoming requests to be featured every single day.
Waiting lists over six months long to be featured in most cities
GroupBuying.com will feature an attractive reserve price and as a result, it is expected to sell. Online bidding on this domain name is currently available for registered bidders and bidding will continue until the live event on Tuesday, October 19th 4:30pm through 7:00pm EDT at the South Beach T.R.A.F.F.I.C. Live Auction. Information about the auction and event can be found at Latonas.com, TargetedTraffic.com or RickLatona.com.
Why are generic domain names like GroupBuying.com so valuable? Year after year, the values of generic domain names have been rising dramatically. Domain names truly the safest investments in today's time of uncertainty. An easy-to-remember, brand-able Internet domain name is a key component to a company's success.
Corporations worldwide are taking note of these developments, and are taking action accordingly. Recent high priced domain names include
Toys.com $ 5,100,000
Candy.com $ 3,000,000
Ticket.com $ 1,500,000
Luck.com $ 675,000
Once high-profile domains are acquired by large corporations, they may never be available for public sale again. Indeed, one's only hope of controlling such a high-profile domain name would be to acquire the entire corporation, an undertaking thousands of times more expensive than buying the domain before the corporation acquires it. The appeal of high-profile domain names is undeniable. Make sure you don't miss out on this one-time opportunity to acquire GroupBuying.com exclusively available at T.R.A.F.F.I.C. through Rick Latona Auctions.
For more information, visit their website at http://www.RickLatona.com
Any questions concerning the auction or the domain name GroupBuying.com should be directed to toby(at)latonas(dot)com
Contact:
Toby Clements
Rick Latona Auctions, LLC
405 Brentwood Dr. NE
Atlanta, GA 30305
+1.615.944.3501
###