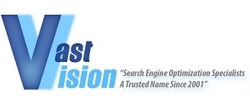 Pompano Beach, FL (PRWEB) October 15, 2010
VastVision a full service internet marketing, web design & SEO company, is pleased to publicize the birth of their new and improved website. Servicing the online community and business owners alike worldwide since 2001, VastVision has become an invaluable player in the Internet Marketplace.
To effectively generate sales, new customers, and a return on investment for your web marketing efforts in the harsh and competitive world of the Internet, one must comprehend Darwin's Theory of Evolution and Survival of the Fittest. Companies of all sizes are faced with the same predicament; how do we show up at the top of search results for our target keywords for all the major such engines like Bing, Google and Yahoo!? The answer is more or less straightforward. Links, links and some more links along with an eye-catching website that converts visitors into customers. Many companies unnecessarily over complicate this web marketing process and waste money and time on efforts that don't contribute directly to results. VastVison is focused on methodologies and strategies that translate directly into new customers and increased sales. Showing up at the top of the search engine is an "all or nothing" game and we provide the best value for dollar SEO in the industry.
VastVision's CEO, Alan Koifman, stated today, "Like most business owners today, I am hard working, honest and trying to stay ahead of the competition. The company I've built is here to facilitate the progression from yesterdays marketing strategies and techniques to the new Internet specific strategies like search optimized websites and search engine optimization. We provide you with the best product and service for your marketing dollar." VastVision is ranked the #2 Integrated Search Company in the world by TopSeos.com, a leading authority in the Internet Marketing Community.
For help deciding which Internet Marketing Solution is most suitable for you and your company, please visit VastVision at http://www.VastVision.com or call (888) 303-3901 now for more information on how to get your site ranking on the first page of search results.
###