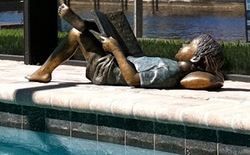 Smart money is now positioned to purchase property in desirable neighborhoods that is not tainted by the growing foreclosure scandal and is still priced right
Naples, FL (Vocus) October 15, 2010
Lee County's Rocket Foreclosure Docket has now tainted much of Southwest Florida's real estate inventory with title questions. Zen Real Estate has long been know for empowering homebuyers with information and now the firm has announced that Mickey's Florida House, http://www.MickeysFloridaHouse.com, has never been a foreclosure, is presently mortgage free and is being offered for sale at reproduction cost. Buyers from around the world can view this listing, videos, map and pictures plus schedule a tour of the property and chat with broker and real estate entrepreneur Robin Speronis instantly from the property website.
"Smart money is now positioned to purchase property in desirable neighborhoods that is not tainted by the growing foreclosure scandal and is still priced right," commented broker Robin Speronis.
Mickey's Florida House is a 3 bedroom, 2-bath pool home located in Cape Coral, Florida on a Gulf of Mexico access canal. It features an open floor plan opening to a view of the oversized pool, wraparound dock with captain's walk and the Gulf access canal. To view videos and information on this home, gain access to a private tour and chat with broker Robin Speronis visit http://www.MickeysFloridaHouse.com.
For more information about Zen Real Estate please visit http://www.AskZenRealEstate.com.
# # #