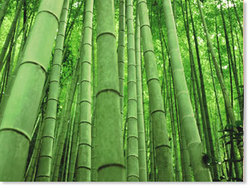 Imagine for a minute.....generating energy with a short growth cycle crop, produced on site, at reduced costs, all with a smaller environmental footprint.
Brussels (PRWEB) October 17, 2010
Throughout emerging and developed countries, energy powers growth and development! Without a stable generation output, energy costs will increase and growth opportunities will slow. Governments know that affordable, clean, energy is the key to sustained higher gross domestic product and commercial growth. In order to fulfill the demand for biomass power plant feedstock, Florida based Clenergen Corp. is buying and leasing land in close proximity to generation stations in order to grow short rotation crops like bamboo to feed their power plants.
In September, Clenergen, who in collaboration with its agriculture partners in India and the Philippines, commenced six (6) month trials of Marjestica, Beema Bamboo and Melia dubia on 150 acres in Valliyur, Tamilnadu, India. This is all in preparation of completion of commercial plantations beginning in March, 2011 in a nearby location in the State of Tamilnadu.
Additionally, Clenergen has a sublease agreement for 5,000 acres of land in Valliyur, Tamilnadu and an agreement to sublease for 4,000 more acres of land near Tutitcorin, Tamilnadu to support plantations as part of a requirement for needed feedstock for a new 32mw/H biomass power plant scheduled for commissioning in 2012. Both the regions benefit from high rainfall and are very suitable for short rotation biomass crop cultivation.
The trials will be in parcels of 25 acres where the density will vary in order to determine the optimum yield from the crops. Marjestica will be supplied from tissue culture saplings that have been treated with the Tree Adaption Process (Polyploidisation) and Beema Bamboo from micro propagated saplings produced from tissue culture. Melia dubia saplings will be supplied from a cloned variety originating from a local farm located on 250 acres of land at Komangalam, Tamilnadu.
This type of ingenuity is what makes renewable energy an exciting sector. Imagine for a minute generating energy with a short growth cycle crop, produced on site, at reduced costs, all with a smaller environmental footprint.
Interest in using biomass feedstock to produce power, liquid fuels, and chemicals worldwide is increasing. A key point in determining the potential for this industry's future development is to understand the importance of the location, the available quantities and prices of biomass feedstock.
Biomass feedstock are classified into various categories and although several different type of biomass can be used, dedicated energy crops, such as those promoted by Clenergen, among others are expected to be the main source globally for feedstock generation. Dedicated energy crops include short rotation bamboo and wood crops such as Marjestica, Beema Bamboo and Melia dubia. Currently, dedicated energy crops are not produced in the United States, but instead overseas in emerging markets like India and the Philippines. As mentioned above, Clenergen Corp takes this concept one additional step by locating these plantations close to the actually generation station to ensure a constant supply of feedstock for the power plant.
You can read more about Clenergen and their progressive techniques at http://www.Clenergen.com. This company with others in the industry are making diligent efforts to create energy solutions which reduce their environmental footprint and provide a badly needed, constant supply of energy using ingenious methods like short rotation bamboo and woody crops as feedstock.
# # #