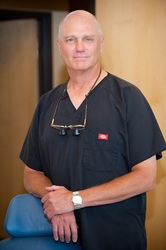 I'm happy that the extraction and storage science is commercially available to those who want it. Stem cell applications promise sweeping cures and treatments in the coming years.
Edwards, CO (PRWEB) October 18, 2010
Within just the last decade, researchers have discovered that stem cells are available in the healthy pulp and follicles in teeth. These cells are regenerative, with the extraordinary potential to develop into many different cell types in the body. Within the past 18 months, the new StemSave™ consumer cryo-storage service has come online which gives patients the ability to preserve their own cells until they may need them. Dr. James Garel, the only board certified oral and maxillofacial surgeon in the Vail Valley, now offers patients in the Colorado Rocky Mountains the opportunity to tap into this landmark technology and its potential to heal and repair future traumatic, chronic and degenerative health issues.
Cryo-storage of third molars, or wisdom teeth as they are commonly known, may become as customary for teens as a senior high school portrait. The benefits of cryo-preserving young dental stem cells are numerous: Healthy dental pulp contains stem cells that are among the most powerful in the body and replicate at a faster rate and for a longer period of time than other types of stem cells. The accessibility of teeth makes harvesting dental stem cells simple and affordable. While people have opportunities throughout their lives to have dental stem cells recovered and stored, doing so at a younger age is optimal, as the younger the stem cells the better. Finally, if one's own stem cells are used for a reparative or regenerative therapy later in life, there are few if any risks for rejection following transplantation. Dr. Garel, during the course of routine extraction of wisdom teeth, bicuspids during orthodontic treatment, and deciduous (baby) teeth, can now recover stem cells and offer cryo-preservation for patients for future uses.
For years, Dr. Garel has been following advances in the use of bone marrow stem cells, largely to provide his bone grafting and maxillofacial surgery patients with an alternative to the unpopular procedure of obtaining marrow cells from the pelvic bone. "I have always been interested in tissue engineering and its potential," says Dr. Garel. "In addition to being non-controversial and easy to harvest, teeth stem cells are pleuri-potential or 'plastic' cells which can form many different tissue types; not all stem cell types have this capability." The pleuri-potential teeth stem cells can differentiate into tissue types such as muscles, neurons, bone, organs, insulin-producing pancreatic beta cells, skin, cartilage and more.
"Regenerative medicine is probably going to be the next great development in medicine. For cases like compromised knee cartilage, or limb loss, eventually we'll be able to re-grow these things from stem cells," says Dr. Garel. Virtually any disease that results from malfunctioning, damaged or failing tissues may be potentially cured through regenerative medicine therapies. The Armed Forces Institute of Regenerative Therapies (AFIRM) is researching ways to treat injured soldiers returning from battle. Today hospitals are using stem cells to treat leukemia and heart failure, and are transplanting organs from a patient's own cells. There are over 3200 clinical trials in various stages of investigation, which suggest that stem cell therapies will be able to treat diabetes, Parkinson's, Alzheimer's, muscular dystrophy and many other diseases.
"This is a really nice amenity to be able to offer to patients," says Dr. Garel. "I'm happy that the extraction and storage science is commercially available to those who want it. Stem cell applications promise sweeping cures and treatments in the coming years." Vail Valley Oral and Maxillofacial Surgery is the only practice currently offering the StemSave™ service between Denver and Grand Junction, Colorado. The practice is located off of I70 at exit 163 in Edwards, Colorado. Find them on the web at http://www.vailvalleyoralsurgery.com/.
About Vail Valley Oral and Maxillofacial Surgery
Dr. James Garel, a Fellow of the American Academy of Oral and Maxillofacial Surgery (AAOMS), is the only board certified oral and maxillofacial surgeon in the Vail Valley. Oral surgeons complete an additional four years of surgical residency and a year of internship over and beyond dental school, and specialize in surgery for the mouth, face and neck. Specializing in wisdom teeth, bone grafting, dental implants, facial trauma, oral pathology, orthognathic surgery and the exposure and bracketing of impacted canine teeth, Dr. Garel performs all surgeries at his Edwards office and is the only oral surgeon between Summit County and Glenwood Springs, Colorado. Practicing since 1984, Dr. Garel is a third generation Coloradan who moved from Denver in 2004 to open Vail Valley Oral and Maxillofacial Surgery and to live in ski country full time. The practice is off of I70, exit 163, at 105 Edwards Village Boulevard, Suite C-205. 970-569-3055. http://www.vailvalleyoralsurgery.com/
About StemSave™
StemSave™ provides an affordable and non-invasive method for the recovery and preservation of adult stem cells found in teeth by teaming up with dentists to harvest stem cells during routine dental procedures. StemSave™ services are $590 for an initial processing fee, with an annual $100/year storage fee, or $2190 for both processing and pre-paid 20 year storage. StemSave also offers extended payment plans. http://www.stemsave.com
Media Contacts
Dr. James Garel, D.D.S.
Vail Valley Oral and Maxillofacial Surgery
105 Edwards Village Boulevard, Suite C-205
Edwards, CO 81632
970-569-3055
info(at)vailvalleyoralsurgery(dot)com
http://www.vailvalleyoralsurgery.com/
or
Kate Collins
Write Brain West, Inc.
kate(at)writebrainwest(dot)com
970-274-0899
###