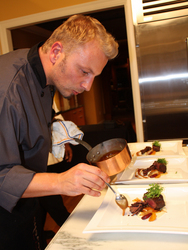 Gentlemen, start your burners! The Ultimate SoNo Chef Shoot Out may now begin at The Clarke Culinary Center!
Norwalk, CT (PRWEB) October 18, 2010
Sparks were flying off the knives, taunting remarks were darting from one chef to another across The Clarke Culinary Center, and guests were moving around the room, hoping to catch every little nuance Chef Matt Storch and Master Chocolatier Fritz Knipschildt were adding to their three courses as three hours of action built to a culmination at the first Ultimate SoNo Chef Shoot Out on Thursday, October 7th.
After three intense hours including introductions by Clarke General Manager Sean Clarke, Norwalk's Mayor Moccia kicking off the competition with, "Gentlemen, start your burners," and both chefs switching between concentrated effort and taking time to chat with the audience around them, the winner of the competition was announced.
"The ballots have been counted and recounted," said Sean Clarke, explaining that the three celerity judges' ballots would name the champion, and the ballot tally from the audience of 50 guests would award a "People's Choice" honor.
The friendly, yet competitive, chefs were quiet and intense as Clarke announced, "First the 'People's Choice' goes to…Matt Storch of Match." Storch smiled, waved and looked at Fritz Knipschildt, wondering if he might sweep both distinctions.
Clarke continued, "The judges have chosen Fritz Knipschildt of Chocopologie as the champion of this first SoNo Chef Shoot Out and plans will begin immediately for an event where Fritz will go up against his next competitor and Matt Storch will have the honor of being one of the judges." Knipschildt was presented with an engraved platter trophy and Storch with a ceremonial spatula and gift certificate to his competitor's restaurant.
The celebrity judge panel for the evening included Dina Cheney, author of Tasting Club and columnist for Everyday with Rachael Ray, CEO and Publications Director of Connecticut Cottages & Gardens magazine Marianne Howatson, and Chef Prasad Chirnomula, owner of Thali.
Chef Prasad, who is known for his superb culinary skills and great business sense with a chain of Indian restaurants throughout the region, was both intense and impish during the two-hour competition. He arrived with great fanfare, presenting each of the competing chefs with a gift of a giant green bottle gourd, which he inferred they must incorporate into their recipes.
As the cooking began, he said to Storch, "What are you going to do with that?" and Storch responded, "Nothing," with a smile. Fritz placed the two-foot-long gourd on his counter and after his three courses were fully underway, he showed his intensely competitive nature saying to Prasad, "Do you want us to incorporate this?" He smiled with relief when Prasad said that it was just a gift from him.
In fact, the chefs had to incorporate root vegetables into each of their three courses, with the "secret ingredient" chosen Iron Chef-style prior to the competition. The result of their culinary prowess was as follows…
Chef Fritz Knipschildt's Creations
Appetizer:
Festival of fall root vegetables, smoked potato crème fraise, served with a potato soup with caramelized onions.
Main course:
Cocoa dusted loin of venison, parsnip puree, orange blossom honey pan roasted butternut squash, variation of braised beets-truffled demi glace.
Dessert:
Pumpkin/gianduja mousse with white chocolate and caramel sauce.
Chef Matt Storch's Creations
Appetizer:
Soup & Sandwich…celery root & truffle soup, fresh black truffle, apple, celery leaf salad and beet waffle sandwich filled with sunny side quail egg, roasted beets, micro beet greens and truffled crème fraiche
Main course:
Surf & Turf…caramelized diver scallop with salt & pepper pork belly with fennel whipped potatoes, roast fennel-cippolini-melon salsa, banyuls gastrique and crispy potatoes
Dessert:
Luscious Roots…sweet potato & butternut squash panna cotta with parsnip whipped cream, candied pepitas-nuts, cranberry water, and sweet chips
While the judges tasted and deliberated over each course presented inside The Clarke Culinary Center, the audience was free to take a break from the action and get a drink inside the Clarke showroom, where they were also treated to magnificent tasting plates of the same dishes prepared behind the scenes by a team from each chef's restaurants.
"This has been wonderful," commented Lucie Pepin Ross, who had enjoyed previous Fritz Knipschildt classes at The Clarke Culinary Center. "Fritz has really refined his skills even over the past year. He's such a pleasure to watch with his intensity and precision."
Another highlight of the evening came when Sean Clarke presented Kate Lombardo, executive director of The Food Bank of Lower Fairfield County, with a check for $2500, reflecting proceeds from the evening's competition.
The youngest audience member? Twelve-year-old Benjy Robinov of Stamford, CT, who was celebrating his birthday accompanying his mom to the event. While they had never been to Clarke or The Clarke Culinary Center, he said he was a fan of Matt Storch's that night. When asked why a 12-year-old boy wants to spend his birthday at a chef competition, Robinov answered, "I want to be a food critic some day."
After the first SoNo Chef Shoot Out, his palette will be far more educated.
For information about the next SoNo Chef Shoot Out or upcoming classes at The Clarke Culinary Center, please visit http://www.clarkeculinarycenter.com or call 800-842-5275, ext. 206.
About Clarke
This award-winning distributor of appliances from Sub-Zero, Wolf and Asko, provides expansive showroom resource centers in Milford, MA and South Norwalk, CT, where homeowners can learn about and experience these appliances in dramatic kitchen vignettes, without any pressure to purchase. Clarke also offers The Clarke Culinary Center inside both of their showrooms to offer cooking classes from Clarke corporate chefs and local celebrity chefs. In addition, the company launched Clarke Customer Care, a dedicated repair service for their brands, that has earned them "Best in the US" satisfaction survey results. For more information, visit http://www.clarkecorp.com.
# # #