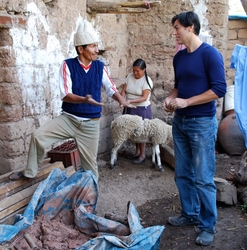 I am honored to have been selected as one of the National Award nominees for the U.S. Center for Citizen Diplomacy, especially when there are so many amazing people doing so much good work as U.S. citizen ambassadors
San Francisco, CA (Vocus) October 19, 2010
ProWorld, a social enterprise that matches individual volunteers and university groups with community projects in developing countries, is proud to announce that Richard A. Webb, ProWorld's founder, has been selected by the U.S. Center for Citizen Diplomacy (USCCD) as one of the recipients of its 2010 National Awards for Citizen Diplomacy. Webb and the other recipients will be honored at a ceremony in Washington, D.C. on November 17, 2010, as part of the USCCD's Summit for Global Citizen Diplomacy.
The USCCD's National Awards for Citizen Diplomacy recognize an individual's extraordinary work to increase American citizen engagement in international affairs and their outstanding contributions in fostering cross-cultural understanding. The USCCD will make a $5,000 donation to a citizen diplomatic program or non-profit organization of choice, in each recipient's name.
"I am honored to have been selected as one of the National Award nominees for the U.S. Center for Citizen Diplomacy, especially when there are so many amazing people doing so much good work as U.S. citizen ambassadors," said Webb. "This award honors and celebrates international volunteerism as a powerful vehicle for grassroots international relations. We hope it will raise awareness in the U.S. about volunteer opportunities and increase the number of communities we are able to help worldwide."
The full list of 2010 National Citizen Diplomat Honorees includes:

Scott Beale, founder and CEO of Atlas Service Corps, Inc.
Jenny M. Buccos, director, producer and founder of ProjectExplorer.org
Judith Jamison, artistic director of the Alvin Ailey American Dance Company
Robert Redford, Oscar-winning actor, environmental activist, film director and founder of The Sundance Institute
James Rolfe, D.D.S., founder of Afghanistan Dental Relief Project, Inc.
Sahar Taman, director, Religion and Society Program of the National Peace Foundation
Richard A. Webb, founder of ProWorld
"Through their unique vision, ingenuity and dedication, this year's honorees demonstrate how individuals can make a tremendous difference in shaping U.S. foreign relations - one hand shake at a time," said Ann Schodde, president and CEO of the U.S. Center for Citizen Diplomacy. "Through their efforts, these citizen diplomats are building a reservoir of sustainable goodwill among the citizens of the United States and other nations and are excellent examples of citizen diplomacy at work."
ProWorld's founders, Richard Webb and Nick Bryngelson, started ProWorld ten years ago with the vision of creating sustainable change by working closely and collaboratively with local communities and connecting those communities with global volunteers.
"Richard lives and breathes the concept of citizen diplomacy in everything he does – so it comes as no surprise that he would be honored in this capacity," said Nick Bryngelson, co-founder of ProWorld. "We are all thrilled with Richard's selection for this award, and hope it will help us to connect more U.S. volunteers with international volunteer work."
Born in Lima, Peru, Richard holds a B.A. in History from Vassar College and a MBA with a focus on social enterprise from Oxford University. Richard has served on the executive committee of the International Volunteer Programs Association (IVPA), and is a regular presenter on volunteer travel at NAFSA. In addition, as the co-founder of The ProWorld Fund, a non-profit organization being developed to work in conjunction with the existing ProWorld organization, Richard seeks to push the bounds of what is possible through private and civil sector collaboration.
ProWorld currently offers volunteer opportunities in Peru, Mexico, Belize, India, Thailand, Ghana, and Brazil focusing on three main global issues: health, environment and social/economic development. ProWorld also works with the world's leading universities to create customized volunteer programs for their students, including research partnerships exploring these issues. To date, ProWorld volunteers have logged almost 700,000 hours of volunteer service and injected more than $6 million of capital into local economies.
Since 2000, ProWorld's volunteer programs have accomplished amazing things, including:

Installing more than 5,400 clean-burning stoves in rural Peruvian villages
Treating more than 17,000 patients during a three-year clinical outreach program
Constructing 22 much-needed elementary schools in ProWorld host communities
Planting more than 24,000 native plants and trees threatened by extinction
The criteria for the National Awards for Citizen Diplomacy were based on the goals of the Fulbright- Hays Act. Accomplishments and/or activities must have increased mutual understanding, strengthened ties, promoted international cooperation and developed peaceful relations between people of the United States and another country or countries.
About the U.S. Center for Citizen Diplomacy
Established in 2006, the U.S. Center for Citizen Diplomacy is a non-profit, nonpartisan organization that promotes and expands opportunities for all Americans to be citizen diplomats and affirms the indispensable value of citizen involvement in foreign relations. For more information about the 2010 award honorees, please visit http://www.uscenterforcitizendiplomacy.org.
About ProWorld
Since 2000, ProWorld (http://www.myproworld.org) has offered its participants meaningful volunteer programs in developing countries around the world. ProWorld's mission is to promote social and economic development, conserve the environment, empower communities, and cultivate educated, compassionate global citizens. In 2009 National Geographic Adventure listed ProWorld as one of its "Best Adventure Travel Companies on Earth." ProWorld is part of the Intrax Cultural Exchange family of organizations devoted to fostering international understanding through cultural exchange and educational programs, with operations in more than 80 countries worldwide.
# # #