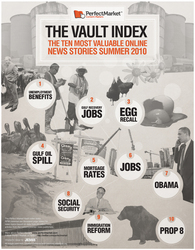 Pasadena, CA (PRWEB) October 18, 2010
Perfect Market, Inc., an Idealab company that helps publishers maximize online revenue from their content, today launched the Vault Index, an exclusive ranking of the 10 most valuable topics for news publishers.
The Vault Index Summer 2010 debut finds that while the Lindsay Lohan sentencing and other celebrity coverage drove significant online traffic for major news publishers, articles about unemployment benefits, the Gulf oil spill, mortgage rates and other serious topics were the top-earning news topics based on advertising revenue per page view.
"This data proves that serious journalism does pay," said Julie Schoenfeld, CEO of Perfect Market. "The great insight unveiled by the Vault Index is that the stories with real revenue opportunity for news organizations today are not always, as it turns out, celebrity scandals but difficult subjects that affect people's lives."
Most Valuable News Topics – Summer 2010: (Infographic link below)
1. Unemployment Benefits
2. Gulf Recovery Jobs
3. Egg Recall
4. Gulf Oil Spill
5. Mortgage Rates
6. Jobs
7. Obama
8. Social Security
9. Immigration Reform
10. Proposition 8
News Facts & Context:

While most news sites now monitor top traffic-driving search topics, Perfect Market's Vault Index looks at a combination of traffic and advertising revenue data to estimate the top-earning news topics, based on advertising revenue per thousand page views (RPM)
For the Vault Index Summer 2010, Perfect Market tracked more than 15 million news articles from 21 U.S. news sites, including those of The Los Angeles Times, The San Francisco Chronicle and The Chicago Tribune from June 22 to September 21, 2010.
The Vault Index ranks the most valuable news topics on scale of 1 to 5. Topics whose stories have more traffic might rank lower because they generate less revenue per page view. (For instance, stories on the egg recall had more traffic than articles on Gulf recovery jobs, but Gulf jobs placed higher because it had a higher RPM.)
To arrive at topic RPMs, the Vault Index aggregates online RPMs from specific news articles about those topics. Representative RPMs by topic include: Mortgage Rates, $93; Immigration Reform, $26; Egg Recall, $20. (For comparison, articles on the Lindsay Lohan sentencing averaged RPMs of $2.50.)
Topic Vault Index Score Traffic Score Revenue (RPM)
-------------------------------------------------------------------------------------------------------------------------------
Unemployment 4.3 5 $28
Gulf Recovery Jobs 3.8 3 $34
Egg Recall 3.2 4.5 $20
Gulf Oil Spill 3.2 3.5 $27
Mortgage Rates 2.8 1 $93
Jobs 2.3 1.5 $33
Obama 2.2 2.5 $24
Social Security 2 0.5 $129
Immigration Reform 1.8 2 $26
Proposition 8 1.8 4 $10
"Without this kind of data, publishers end up chasing trends to increase raw page views, but that is not necessarily the best revenue strategy," said Tim Ruder, Chief Revenue Officer at Perfect Market. "And it's a disservice to their readers who want credible and important news, their advertisers who want high-value advertising placements, and their brands which live and die by the quality of their editorial coverage."
Resources:

About Perfect Market, Inc.
Perfect Market, Inc. helps professional publishers with revenue relevancy tools that help them create, distribute and monetize their content more effectively online. Perfect Market, a spin out of Idealab, builds on Idealab's achievements in the search industry such as its creation of the paid search model through Overture Services, acquired by Yahoo! in 2003. Perfect Market is based in Pasadena, CA.
Perfect Market's solution helps publishers serve users with exactly what they are looking for in online content. Our optimized content pages are designed from the ground up to serve each specific audience segment, from search engine users to visitors from social networks. Content is complemented with relevant ads that are targeted based on the specific content themes that attract users to the content. This results in a more satisfied user, increased traffic and higher click-through rates for advertisers. The combination of factors results in dramatically more revenue for publishers and their ad network partners.
At Perfect Market we believe that content matters. By delivering the right content in the right format to the right user with the right relevancy, Perfect Market has increased the revenue for partners in our program by at least 20-fold.
###