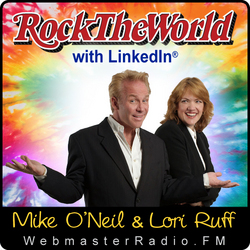 "Axel was the earliest of early adopters of LinkedIn and Social Media... when the words Social Media meant nothing
Fort Lauderdale FL (PRWEB) October 18, 2010
Axel Schultze , one of the early advocates, users and experts in the social media space, will be a featured guest on "RockTheWorld with LinkedIn" on WebmasterRadio.FM Monday October 18th at 7pm Eastern Time.
Hosts Mike O'Neil & Lori Ruff speak to Axel, who is also the founder of the Social Media Academy and founder and CEO of Xeequa, about his initial exposure to LinkedIn. Axel explains how he was approached to be one of the users of this evolutionary social media tool, and how he was encouraged to invite his pool of high-profile SiliconValley executives.
"Axel was the earliest of early adopters of LinkedIn and Social Media," said O'Neil. "Being in San Francisco in the earliest days, when the words Social Media meant nothing, offers amazing peek into the future. Axel was there then, he's there now and he points to a future that you want to know about."
Axel also fills us in on his current roles running the Social Media Academy, which provides education for business professionals from all industries on how to best apply social media to their respective organizations. He also tells us about the launch of his new Social Business Application called XeeSm, which allows you to list your links towards the several social networks you are on, the blogs you keep, your other connections to theme based networks and more.
"Openness is the number one driver to more functionality," Schultze said "Today its LinkedIn where we have our contacts and then we have our business… At one point we want to connect those two. That blend of business and personal is probably the most significant change we will see in the next 10 years."
Listeners are able to interact with their questions and comments to the host and guests for each interview, as well as all live WebmasterRadio.FM programming, by:

Following us on Twitter @webmasterradio
Becoming a member of the WebmasterRadio.FM Facebook page or…
Log in to our live 24-hour real-time chatroom monitored by our show hosts at http://www.webmasterradio.fm/chat.
"RockTheWorld LinkedIn", airs every Monday at 7pm Eastern / 4pm Pacific on http://www.WebmasterRadio.FM. Episodes are archived on WebmasterRadio.FM, as well as on iTunes and other premier podcast portals.
About WebmasterRadio.FM
WebmasterRadio.FM lifts the "veiled curtain" of the Internet, bringing the business community together through an interactive radio network. Its listeners are a global group, comprised of everyone from corporate executives and decision makers to small and mid-sized businesses and individual entrepreneurs. WebmasterRadio.FM's stellar line-up of radio programming includes "CoverStory" with Jiyan Wei of PRWeb, WebmasterRadio.FM's official newswire; "Market Edge" with W2/Racepoint Group Chairman Larry Weber; "SEM Synergy" with Search Engine Marketing Industry Leader Bruce Clay, "The Joel Comm Show" with New York Times bestselling author and serial entrepreneur Joel Comm and more. To tune into WebmasterRadio.FM's live content or check out the show lineup, please visit http://www.WebmasterRadio.FM.
Media Contact:
Brandy Shapiro-Babin
954-309-5578
###