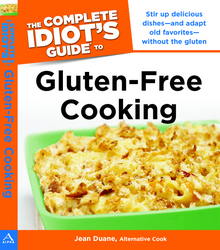 This book brings together all the accumulated wisdom of this growing and important culinary realm, and the best part is that you don't have to be gluten-intolerant to fall in love with Jean's delicious recipes
Centennial, CO (PRWEB) October 25, 2010
Gluten is associated with numerous chronic illnesses and said to negatively affect over 90 million Americans. For those who need or want to eat gluten-free (dairy-free and allergy-free) help is finally here. With over 220 recipes from soup to nuts, and everything in between, these simple-to-make recipes will grace the table for years.
Using one easy-to-make flour mix, the Complete Idiot's Guide for Gluten Free Cooking contains numerous breads, buns, biscuits, muffins and even cracker recipes. It includes recipes for homemade pasta, pizza, dumplings, blintzes, waffles and noodles. Dessert recipes include cakes, cupcakes, pies, brownies, cookies and bars. It has many beef, chicken, fish and vegetarian selections for breakfast, lunch, dinner, and snacks. Sections of the book include "The Basics of the Gluten-Free Diet; Breakfast, Brunches and Breads; Lunches, Soups and Snacks; What's for Dinner?; Great Salads and Sides; and Desserts and Sweets.
Since gluten and dairy intolerance often go hand-in-hand, the Complete Idiot's Guide for Gluten Free Cooking contains dairy alternatives. Author, Jean Duane, Alternative Cook lives a gluten and dairy free lifestyle and is an expert in developing GFCF (gluten-free/casein free) recipes.
"This book brings together all the accumulated wisdom of this growing and important culinary realm, and the best part is that you don't have to be gluten-intolerant to fall in love with Jean's delicious recipes", says Peter Reinhart, four-time recipient of the James Beard award and full-time Chef on Assignment at Johnson& Wales University.
"So easy anyone can do it, and so good everyone will eat it. It has everything you need to make great gluten free meals", says Dr. Stephen Wangen, the Gluten-Free Doctor and board member of the Gluten Intolerance Group of North America.
Jean Duane wrote the book as if she was holding your hand and showing you that life on a special diet is easy -- and tasty! She augments recipes with gluten-free off-the-shelf foods to make great meals fast and easy. The book contains a comprehensive list of gluten-free foods to make shopping a breeze. Tips on Jean's many trials, errors and tests, safe practices and definitions pepper the book, making this diet easy for anyone. The Complete Idiot's Guide For Gluten Free Cooking will be in bookstores around the country on November 2, 2010.
Jean Duane, Alternative Cook, LLC produces instructional DVDs (Chocolate, Mexican, Italian and Kids' Meals), video streams (Alternativecook) and Bake Deliciously! Gluten and Dairy Free Cookbook. She shows how to cook without gluten, dairy and other food-allergens. She has produced several spots for Comcast's Video on Demand, made television appearances on PBS and has been a featured speaker at the 2009 and 2010 International Association for Culinary Professionals' Conferences. She has developed recipes for Betty Crocker and for Beautiful Sweets bakery. A regular speaker and magazine writer, she won Kiplinger's "Dream in You" contest in 2006.
###