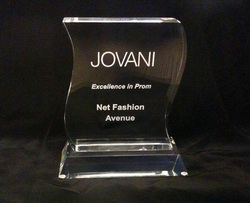 Pleasant Hill, MO (PRWEB) October 26, 2010
Net Fashion Avenue, an innovative online fashion retailer, has been honored with Jovani's 2010 Excellence in Prom award. This award highlights the retailer's efforts to bring the highest quality fashions to their customers through their online storefront. Of course, Net Fashion Avenue also offers more than stunning dresses, separates, footwear and accessories.
The company provides a means to obtain vital information and advice concerning choices in fashion for all manner of occasions, from high school prom nights to a very special night out for two.
The 2010 selection of Jovani prom dresses offered by Net Fashion Avenue included some of the hottest styles to be showcased in recent years, from contour red carpet dresses to cocktail dresses and everything in between. The line up from Jovani for the 2011 season is even better, and Net Fashion Avenue has announced that these selections are now available for purchase through their website.
According to Jovani, the 2011 line of prom fashion is "cool and confident." The collection offers a variety of different textures, fabrics, colors and styles. Loose fitting styles, as well as sheer chiffon are showcased here, as are layers and flowing designs, as well. One of the most delightful options is the selection of empire waisted dresses available, though animal print ball gowns will also be major features for the daring. One-shoulder jersey gowns with A-line silhouettes, stretch jersey dresses with fitted tops and flaring bottoms, embellished waists, layered chiffon under slit skirts and chic designs offer a wide range of stunning options for the 2011 prom.
All of the incredible offerings from Jovani's 2011 prom line are now available at Net Fashion Avenue, an authorized retailer of some of the finest fashion brands in the world.
To find out more about the newest scintillating fashions available from Jovani and other major fashion houses of the world, visit the company at http://www.NetFashionAvenue.com.
About Net Fashion Avenue: Net Fashion Avenue is a well established company and an authorized retailer for many of the top brands in the world of fashion, including Jovani, Allure, Clarisse, Tony Bowls,BG Haute and many more.
###