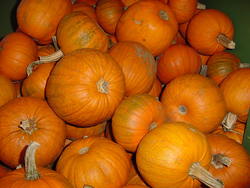 Colonie, NY (Vocus) October 21, 2010
Ryan's Farmers Market to host its first annual Fall Harvest Festival this Saturday, October 23rd 2010 from 11am to 3pm. The event will offer a wide variety of farm fresh produce, nuts, chocolate covered apples, chocolate covered fruit and other specialty confections. Pre-order your holiday fruit baskets this Saturday and save 10% off your order and buy any size pumpkin for just $5.99.
Kid's activities include a Bounce House, Coloring Contest, Costume Contest, and the Ryan's Farmers Market Great Pumpkin giveaway. The first customer to accurately guess the weight of Ryan's Great Pumpkin will win the giant pumpkin and bring in home in just in time for Halloween.
Ryan's Farmers Market re-opened in May 2010 after renovating and expanding its product mix to offer locally made jellies and jams, spreads, marinades, chutneys and hot sauces as well as traditional organic and local farm fresh produce.
The oldest and largest indoor farmer's market, Ryan's Farmers Market is a third generation family run business that has operated in the Capital District for more than 100 years. Customers can shop more than 360 different items that offer superior freshness at a fair price.
Ryan's Farmer's Market is located at 114 Railroad Ave. Ext., Colonie. Hours are 9 a.m. to 6 p.m. Monday through Friday, 7:30 a.m. to 6 p.m. Saturday.
###