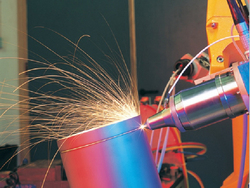 (PRWeb UK) October 21, 2010
Liverpool John Moores University (LJMU) has equipped its Photonics in Engineering (PiE) research laboratory with a next generation high power Ytterbium Fiber laser from JK™ Lasers in Rugby.
The PiE group, based in the university's General Engineering Research Institute (GERI) will now have 4 industrial lasers from JK™ Lasers, ideally suited to pursuing research into welding, cutting, drilling and micro-machining applications.
The JK Fiber laser complements the existing JK700 series pulsed Nd:YAG laser perfectly and opens up new applications in high speed machining of metals and composite materials.
The photonics in Engineering group, led by Dr Martin Sharp, are using JK™ Lasers' systems in a wide variety of applications, projects ranging from laser micromachining of polymeric material for the biomedical sector to macro laser processing of carbon fiber reinforced plastics (CFRP, "Composites") for aerospace and automotive applications.
Dr Paul French, another founding member of the PiE group, and lead researcher on Composites, says 'we recognised that if lasers are going to be part of the aerospace industry in the future we must find successful processing parameters for CFRP."
PiE has procured their own JK400FL system to carry on the composites work, following successful processing trials using a JK200FL, 200W fiber laser at JK™ Lasers. There are a number of research groups around the world who are investigating laser processing of CFRP using mainly UV laser systems or ultrashort picosecond or femtosecond lasers.
The work at PiE is novel in that it is investigating the processing of CFRP materials using a laser source that produces a continuous or modulated laser beam and whose capital cost is a fraction of the more expensive ultrashort pulse lasers.
Dr French reports, "A number of aerospace companies are excited by the results so far and all with a concerted effort I am confident we can produce the results that will allow the aerospace and automotive sector to implement the technology on the shop floor. This could be a very important market for fiber laser sales in the future."
Dr Martin Sharp added that he believed that the powerful control system and fully integrated process tools within the JK™ fiber lasers, offers a high degree of flexibility for the group's materials processing research and could prove invaluable in demonstrating robust process solutions to industry.
Liverpool John Moores University's General Engineering Research Institute (GERI) is an international centre of excellence in advanced manufacturing, optical instrumentation and metrology, inspection and reliability of electronic assemblies and the laser processing of materials. It is one of the leading research departments in the UK for General Engineering. In the recent (2008) UK Research Assessment Exercise (RAE), 60% of GERI's research output was officially graded by independent third party expert assessors as being either 'World Leading' or 'Internationally Excellent', with all remaining outputs at least of an 'International Standard'. GERI is ranked in the top 12 Universities in the UK for engineering research. It was awarded a grade 5 in the previous Research Assessment Exercises (RAE) in 1996 and 2001
The Photonics in Engineering Research Group was formed in 2008, by Drs Martin Sharp and Paul French who together have over 40 years of both academic and industrial experience in the field of laser materials processing.
###