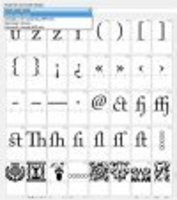 "DTL OTMaster is a fabulous tool. ... it gives me the power of some existing command-line tools, wrapped up in a nice GUI." — Dr. Ken Lunde, Sr. Computer Scientist at Adobe Systems
Port Angeles, WA (PRWEB) October 22, 2010
The OpenType font format is the most popular cross-platform format for fonts today. An OpenType font file consists of a collection of tables. These binary data structures are intended to be processed by computers, and are not very readable to humans. DTL OTMaster reveals the contents of any OpenType font table in a friendly graphical user interface. It allows the user to examine and modify the contents of these tables without the need to rebuild the font from sources.
The practical applications are many and include things like:

fixing clipping in tall glyphs
adjusting kerning
visually examining glyph substitution where special glyphs like fractions, small caps and ligatures may replace regular glyphs
correcting glyph mapping in cmaps
checking the font for consistency on different platforms
editing glyphs to make corrections without harming hinting or other font parameters
"The inner structure of fonts, in particular those that support Chinese, Japanese, Korean, Arabic or Indic scripts, can be quite complex. Typical font editors convert a font into an intermediate format, and then convert it again when the modified version is exported. During this process, some crucial aspects of the font may become 'lost in translation'. DTL OTMaster performs precision font surgery — it changes only those parts of the font that it needs to change," said Adam Twardoch, Fontlab Ltd.'s product and marketing manager.
Ted Harrison, President of Fontlab Ltd., added: "OTMaster allows the user to graphically examine, copy and edit font glyphs, OpenType Layout features, and kerning. It can also help users address common problems such as inconsistent linespacing across operating systems or inadequate screen antialiasing settings. Finally, it can be used to add custom symbols or company logos to fonts."
Harrison went on to say: "OTMaster was developed by Dutch Type Library (The Netherlands) and URW++ (Germany). We are thrilled to add DTL OTMaster to our product offerings on fontlab.com. This release marks the beginning of our collaboration with Dutch Type Library and URW++. Dutch Type Library is renowned for their excellent high-quality DTL typefaces, while URW++ pioneered the field of font technology in 1975 with the development of Ikarus, the world's first digital outline font editor. On the other hand, Fontlab Ltd. is the home of FontLab Studio, Fontographer, TypeTool and TransType, which today rank amongst the most popular font-related products worldwide. We believe that our combined expertise will contribute to improving the overall quality of fonts and typography, and we are looking forward to further collaboration with DTL and URW++."
DTL OTMaster for Mac OS X and Windows is available now at Fontlab Ltd.'s fontlab.com website. The suggested retail price is EUR 255.
More information is available at:
http://www.fontlab.com/dtl-urw-font-utilities/dtl-otmaster/
About Fontlab Ltd.
Fontlab Ltd. has stayed at the forefront of digital font management by remaining devoted to developing font editors and typography products. Their full line of products is dedicated to solving the most complex typography issues. These products include: AsiaFont Studio™, BitFonter™, FogLamp™, FontLab™, FontLab™ Studio, Fontographer™, Photofont®, ScanFont™, TypeTool™, TransType™, FontFlasher™, FONmaker™, SigMaker™ and CompoCompiler™. All products from Fontlab Ltd. carry a 60-day satisfaction guarantee. More information on all Fontlab products can be seen at http://www.fontlab.com.
About Dutch Type Library and URW++
The Dutch Type Library, known for the highly exclusive DTL™ typefaces since 1990, and the Germany based company URW++ Design & Development GmbH, pioneers in the field of font technology development since the early 1970s, together develop designer tools for professional font production. Their products include: DTL FontMaster™, DTL BezierMaster, DTL IkarusMaster, DTL TraceMaster, DTL BlendMaster, DTL KernMaster, DTL ContourMaster, DTL LetterModeller, DTL OTMaster. Dutch Type Library, DTL, DTL FontMaster are trademarks of the Dutch Type Library. URW++ is a registered trademark of URW++ Design & Development GmbH. More information on all DTL products can be seen at http://www.fonttools.org.
###