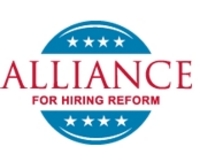 Our aim is to provide valuable information to agencies seeking to comply with the President's mandate to reform federal hiring practices to achieve quality talent acquisition.
Washington, DC (PRWEB) October 22, 2010
The newly formed Alliance for Hiring Reform (AHR) launched today the HiringReform.org web portal to provide free access to articles concerning federal hiring, research reports, educational webcasts and events, and tools like an ROI calculator to help estimate the dollar value of a quality hire.
AHR, comprised of PDRI, a PreVisor Company, Human Resources Research Organization (HumRRO), and Aon Hewitt, partnered with the Center for Human Capital Innovation (CHCI) to build the portal in response to President Obama's memorandum of 11 May 2010 that directed the Office of Personnel Management (OPM), federal agencies, and hiring managers to improve the efficiency of hiring and quality of hires.
"Our aim is to provide valuable information to agencies seeking to comply with the President's mandate to reform federal hiring practices to achieve quality talent acquisition," said Dr. Elaine Pulakos, spokesperson for AHR.
While the Federal Government is the largest employer in the U.S., its hiring systems have long been criticized as burdensome and ineffective. Applicants have had to submit lengthy essays describing their past job experience, which were not only time-consuming to complete and evaluate, but usually did not provide accurate information on which to base hiring decisions. The President's directive requires agencies to make significant changes to streamline and improve the current hiring process – including assessing applicants using valid, reliable tools – by this November 1st.
Given the direct connection between good hiring decisions, a first-class civil service and a high performing government, the Partnership for Public Service took an in-depth look at how agencies are assessing candidates for federal jobs today, the barriers to hiring the best candidates and how the process can be improved.
The study, released 26 August 2010, found that applicant assessment is the weakest link in the government's problematic hiring chain, with top candidates frequently getting lost in meaningless evaluation. The report findings were part of a panel discussion about how agencies can overcome barriers to improve federal applicant assessment.
Taking the lead in the hiring reform efforts, OPM will begin a pilot program using a new set of tools for assessing the skills and qualifications of job applicants. Angela Bailey, OPM's deputy associate director for recruitment and diversity, announced in September that several agencies, including the Defense and Veterans Affairs departments, will start the six-month pilot between October and December. By next summer, OPM anticipates other agencies will begin using the assessments. PDRI helped OPM develop the assessments.
OPM's pilot assessments, covering 12 jobs in which most vacancies are expected, are the single most important step that will improve quality of hires. To improve the efficiency and speed of hiring, OPM is also piloting a fully automated, web-based assessment administration platform.
With the launch of Hiringreform.org this week, agencies can stay abreast of OPM's pilot program progress and all the latest developments regarding hiring reform in the Federal Government.
For more information about AHR, contact: Mike Littman, 703-674-3332
About the Alliance for Hiring Reform
The Alliance for Hiring Reform (AHR) supports improvements in the recruitment and hiring processes throughout the Federal Government. AHR seeks to promote a better understanding of the benefits of assessments in the hiring process, and to build awareness among those responsible for improving the hiring process in the Federal Government. AHR's founding members, the premier thought leading organizations in the fields of human capital management and assessment, include PDRI, Aon Hewitt and HumRRO.
Media Contact:
Donna Lehman
MarketUP
Office: 770-565-7275
Cell: 770-362-9287
###