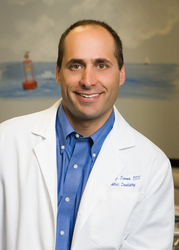 While I'd love to suggest that parents toss the Halloween candy and give their kids a different sort of treat, I know as well as anyone that it's not even a remote possibility
San Diego (Vocus) October 22, 2010
Halloween is spooky for several reasons. For parents, the amount of candy their children are likely to consume scares them the most. San Diego pediatric dentist, Dr. Anthony J. Scoma, a Diplomate of the American Board of Pediatric Dentistry, Fellow of the American Academy of Pediatric Dentistry, senior attending at Rady Children's Hospital San Diego, and father to three of his own little candy monsters, has a few suggestions for dealing with the tricks all those treats can play on kids' teeth.
"While I'd love to suggest that parents toss the Halloween candy and give their kids a different sort of treat, I know as well as anyone that it's not even a remote possibility," said Dr. Scoma. "Halloween is one of my kids' favorite holidays and the collection of ridiculous amounts of candy is probably the best part. So, we try to use our common sense and stress moderation in enjoying what they've collected."
Dr. Scoma encourages parents to inspect all candy collected by their children and discard any treats that look suspicious or appear to be tampered with or opened. Stickier candy, like gummy bears, taffy and caramels get stuck on and between teeth, making them harder to brush away and more likely to cause decay. Hard candies that stay in your child's mouth for a long period of time subject teeth to an increased risk for tooth decay. If possible, these should also be eliminated from the candy stockpiles or strictly limited.
Dr. Scoma also recommends that parents regulate the consumption of candy. "Eating candy every day is detrimental to a child's dental development and overall health," explains Dr. Scoma. "Candy should be considered a special treat and not part of one's daily diet."
If a child is having a candy dessert one day, sugary sodas, juices and sport drinks should be traded for water to lessen the sugar overload and increase the body's natural ability to wash away the extra sugars deposited by the candy. Drinking fluoridated water can also help prevent tooth decay.
When possible, candy and other sweets should be eaten at mealtime, according to Dr. Scoma. During meals, extra saliva is produced, helping to rinse away sugar and the acids produced by bacteria, "The foods your child eats affect not only their general health, but also the health of their teeth and gums. By eating sweet treats sparingly and along with a nutritious meal, you are fueling a healthy body and preventing tooth decay."
Most importantly, though, Dr. Scoma encourages daily good oral health as an important part of a child's total health. Help your children brush their teeth at least twice a day and after sweets with an ADA accepted fluoridated toothpaste and make sure that tight spots between teeth are properly flossed. Good dental practices at home supported by regular examination by a pediatric dentist will help to promote strong, healthy teeth and beautiful smiles.
"Parents can use their best judgment at Halloween and make eating the collected candy a fun treat," said Dr. Scoma. "As long as they are actively involved in their child's dental health and development on a daily basis, Halloween doesn't have to be so scary."
To further help parents in their efforts to encourage healthy mouths and strong teeth, Dr. Scoma has a Halloween Candy Buy-Back Program. For every pound of candy brought in to his pediatric dentistry practice in La Jolla, Calif., Dr. Scoma will pay $1 and the candy will be donated to the troops overseas. For more information on Dr. Scoma or his buy-back program, call (858) 551-9700 or visit http://www.scomapediatricdentistry.com.
# # #