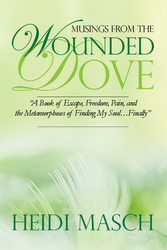 Milwaukee, WI (Vocus) October 26, 2010
Musings from the Wounded Dove, a new book by Heidi Masch, has been released by RoseDog Books.
Heidi Masch hopes this book will help readers see a couple of things, such as freedom from any kind of abuse is worth the fear of leaving and starting over even with less. It took her six months of staying away totally to begin to see through the rain clouds to the sun. Is it easy? Heck no! Is it worth it? God yes! Please walk and write your way out of the pain and fear to a new life and redo this if you need to. There is no failure here just step-by-step travel together. So, let's get started now!
Heidi Masch's abuse started at age 3. It made her believe she was only worthy of abuse from all those she met for forty-eight long, pain-filled years, before she took her first unsteady steps out. A lot of therapy and support groups helped, but what really opened the doors was when one of her facilitators told her to start writing what she felt. The ensuing barrage of words fell out of her pen like rain along with fear, anger, pain, and the worthlessness she had felt. What a life she leads now! It's such a blast! She knows that if she could just help one person who was where she was this book will be worth it.
Musings from the Wounded Dove is a 116-page paperback with a retail price of $16.00. The ISBN is 978-1-4349-9854-5. It was published by RoseDog Books of Pittsburgh, Pennsylvania. For more information or to request a review copy, please visit our virtual pressroom at http://www.rosedog.com/pressroom or our online bookstore at http://www.rosedogbookstore.com.
###