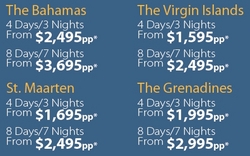 Why settle for a crowded cruise ship when one can vacation and cruise on a privately crewed yacht? Booking these luxury vessels by the stateroom provides an all inclusive opportunity not previously presented to the public.
Sandusky, OH (PRWEB) October 26, 2010
Ultimate Yacht Vacations' charter yachts include a full crew with a highly trained captain, chef, and stewardess. Safety and comfort are the top priorities, with the yacht's crew providing everything from navigation to chilled cocktails. A vacation week will include an unmatched level of service and comfort which is highlighted by the personal accommodations aboard the vessel. Most of the yachts feature three configurations to choose from priced according to their size, amenities, and appointments and are the Master, the VIP and the Deluxe stateroom. All staterooms are fully air-conditioned, and most have state-of-the-art entertainment systems and of course, private bathing facilities. Each yacht will have variations in itsspecific configurations and complete details for each vessel can be viewed by clicking on the individual yacht photos located on the company's Yachts page.
Vacation itineraries include the absolute best yachting areas in the world. Caribbean charter yachts and Bahamas chartered yacht vacations allow you to explore natural islands and beautiful beaches oall while aboard a private luxury charter yacht. Caribbean vacation itineraries can include the beautiful islands of St Barts, St Martin, The Virgin Islands, Antigua, Barbados, Barbuda, British Virgin Islands, BVI, Canouan, Grenada, Grenadines, Leeward Islands, Martinique, St. Kitts, St. Lucia, St Maarten, St. Thomas, St. Vincent, Tortola, US Virgin Islands, and, Virgin Gorda. Each fully crewed motor yacht visits destinations no cruise ship is able to navigate. Charter experts will help individuals book the finest charter vacations to suit both personality and destination requests.
Packages Include:

4 or 8 days on the yacht of your choice.
Choose from three stateroom levels: Master, VIP, and Deluxe
All meals prepared by onboard chef.
Open bar throughout your trip.
Access to all sporting equipment available upon your chosen yacht.
Experienced captain and crew.
All cruising permits, fuel and docking fees.
Choose to cruise out of any of the following destinations: The Bahamas, The Virgin Islands, St. Maarten, and The Grenadines
First Time Cruiser Specials: Save up to $1500.00 per person on charters through 2011 when booked by February 15th. Mention promotional code "FTC".
###